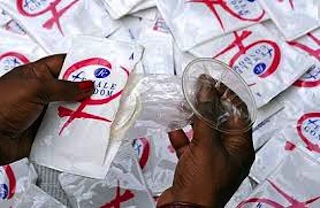 The Association for Reproductive and Family Health (ARFH) on Friday called for extensive civic education in order for Nigerians to understand the great benefits attached to female condom use.
Prof. Oladapo Ladipo, Chief Executive Officer of ARFH, made the call at the female condom counseling tools review meeting on Friday in Abuja.
Ladipo was represented by Dr Oluyemi Atibioke, Senior Programme Officer, HIV and AIDS Education and Communication (IEC) project.
He said that almost 20 years after the female condom was introduced, it has continued to face resistance from both women and men.
Ladipo also noted low female condom use is caused by traditional patriarchal and cultural issues.
"A lot of people are of the view that the condom makes sex unpleasurable, noisy and that it could flip into the woman's body thereby posing health challenge to the users.
"This is false," he said.
Ladipo called for the intensified efforts of the government healthcare providers on awareness creation to ensure acceptability and usage.
"All over the country the acceptability of female condom is still very low, we have been leading the advocacy to ensure that it use is actually acceptable by all and not just to accept it but to promote it.
"The IEC materials which include fliers, posters among others will serve as a national document that will educate people on the benefit of female condom and will also correct some of the misconceptions that people have,'' he said.
Similarly, Sekina Bello, Programes and Advocacy Officer, Pathfinder International, said that the female condom performs a dual role of preventing pregnancy and as protection against sexually transmitted infection.
According to her, other child spacing methods like implants among others do not protect women against other risk associated with unprotected sex.
"Though the woman may have any other children spacing method like the implant but what about other dangers associated with multiple sex partners?
"This could only be prevented through the use of female condom," Bello said.
Load more