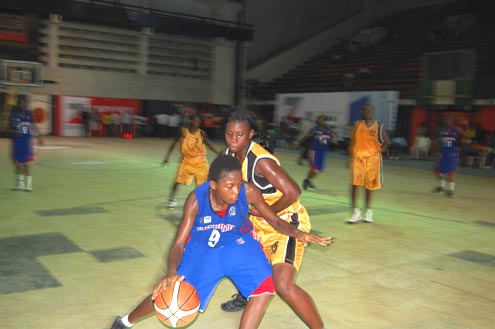 Hoops and Read Club narrowly defeated Nigerian Air Force 71-69 in a thrilling match Friday at the Indoor Sports Hall of the National Stadium Lagos.
Both teams are new  in the Kwese Nigeria Basketball League.
Hoops and Read led floor at half time with 28-27 points while at the close of the third quarter, Nigeria Airforce took over with  51-45 points.
Hoop and Read fought back in the final quarter to clinch a narrow victory.
Habbib Hassan of the Nigeria Airfoce team told NAN that the team fell apart at the wrong time.
"We lost concentration at the wrong time. We made a lot of mistakes and allowed our opponents back into the game.
"We feel sad about this loss because we thought  we had the victory sealed.
"We will go back and ensure subsequent matches do not go this way," Hassan said.
CHECH OUT: Iyabo Ojo shines in new photos
Babajide  Ogunsemore, who logged 14 points for the Hoops and Read team told NAN that the team were the better side because they were more determined to get the victory.
"We worked very hard today to prove our worth. we are happy about the results as it brought out the best in us.
"I will also have to commend our opponents who worked hard to win, but the victory was ours and we grabbed it with both hands," Ogunsemore said.
Nigeria Airfoce team player, Isiaku Salisu had  21 points, the highest among the players on the court.