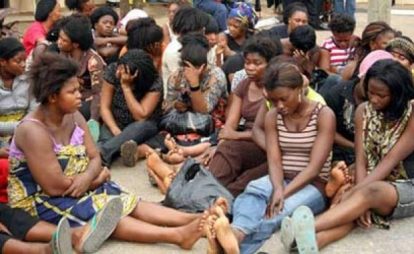 Ms Julie Okah-Donli, the newly appointed Director-General, National Agency for the Prohibition of Trafficking in Persons (NAPTIP), has charged staff of the agency not to compromise its mandate.
She gave the task on Tuesday on assumption of duty at the headquarters of the agency in Abuja.
The News Agency of Nigeria (NAN) reports that Okah- Donli was among the 23 newly appointed heads of federal agencies and parastatals announced on Thursday by President Muhammadu Buhari.
A statement signed by  the Head of Press and Public Relations, Mr Josiah Emerole in Abuja said  that the new chief executive warned staff members  to resist any temptation to compromise in the course of discharging the mandate of the agency.
He quoted Okah-Donli as saying the mandate of the organisation was a sensitive one and of international concern to halt the history of man's inhumanity to man.
She charged the members of staff to work as one big family and foster the spirit of oneness in tackling challenges of the job.
"We must resist any temptation to compromise our duties. I will never tolerate any form of indiscipline under my watch that will expose this organisation to public ridicule.
"My appointment is a call to national service; coming at a time the change mantra of President Muhammadu Buhari is making a quiet revolution in the transformation of the country.
"Let me therefore state unequivocally that we cannot afford to be left behind in writing the history of achievements of this administration.
"Our task here is basically to stop the crime against humanity and we have to discharge our duties with absolute fear of God and we must resist any temptation to compromise our duties.
"Also I will never tolerate any form of indiscipline under my watch," the director-general warned.
She expressed appreciation to the President for the appointment and described it as "a call to national service".
Okah-Donli was born on Dec. 30, 1966.
She obtained her Bachelor of Law Degree from Ahmadu Bello University, Zaria, and won the best prize for the annual Dean's moot court competition in 1990.
She was called to the Nigerian Bar in 1992. She has interest in diverse areas of practice but not limited to Arbitration, Company and Corporate Law.
She has worked with reputable firms such as Anthony Igbene & Co. S. O Ajayi as an Associate from 1996 to 2002, and on to the Securities and Exchange Commission from July 1, 2002, to Oct. 2, 2005, as a Manager in the Secretariat and Legal Administrative Department.
READ: Angry electricity consumers drop charms, block PHEDC office in Port Harcourt
Okah-Donli was appointed Legal Adviser/Company Secretary of the Nigerian Capital Market Institute, an affiliate of the Securities and Exchange Commission, Abuja, from June 2005 to Oct. 2, 2005.
In October 2005, she resigned and went into private practice, Legal Field and Co.
She later moved on to UBA Trustees, Abuja, where she headed the Abuja branch and Northern Region from Oct. 3, 2006, till Aug. 1, 2007.
In August 2007, she was appointed as the Executive Assistant to the Bayelsa State Governor, Government House, Yenagoa, until September 2012.
She later worked as Deputy Head of Chambers with Legal Resources Alliance from November 2012 to May 2013, when she left to set up her practice.
She is the Principal Partner of Julie Okah & Co, a firm of Legal Practitioners, where she practice and is also the founder of The Julie Donli Kidney Foundation.