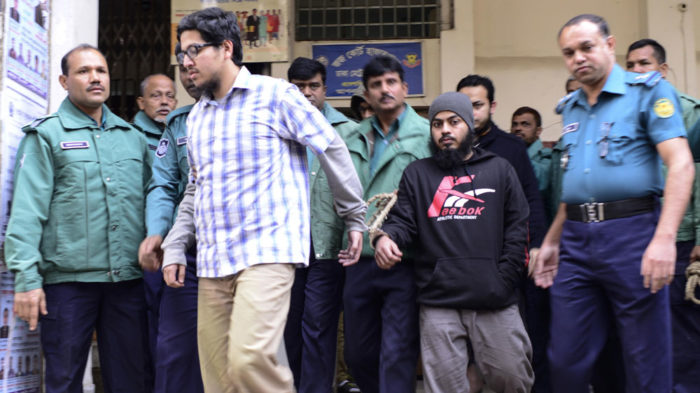 A Bangladeshi court on Wednesday sentenced two men to death for crimes committed during the country's 1971 war of independence with Pakistan, officials said.
The Special War Crimes Tribunal handed down the penalty to Moslem Prodhan, 66, and Syed Mohammad Hossain, 64, for killings and atrocities carried out on civilians during the nine-month war.
Prosecution lawyer Tureen Afroz said six charges, including killing of unarmed civilians, were proved beyond doubt against the accused, who were members of an armed militia group linked to the Pakistan army.
"The death sentence can be executed either by hanging or shooting as the government decides," Afroz quoted the court's decision as saying.
Prodhan is in custody and Hossain is currently on the run.
Six opposition politicians, mostly from the Bangladesh Jamaat-e-Islami party, have been hanged after being convicted of war crimes. Prime Minister Sheikh Hasina set up the special tribunal in 2010.
The Head of the Jamaat-e-Islami party, Motiur Rahman Nizami, and its top-ranking leaders Abdul Kader Mollah, Mohammad Kamaruzzaman, Ali Ahsan Mohammad Mojaheed and Mir Quasem Ali, and Bangladesh Nationalist Party leader, Salauddin Quader Chowdhury, were among those executed.
East Pakistan became Bangladesh after the fighting ended with the surrender of Pakistani forces on Dec. 16, 1971.
An early attempt to prosecute the suspects was called off following the 1975 assassination of Sheikh Mujibur Rahman, Bangladesh's founding leader and father of current Prime Minister Sheikh Hasina.