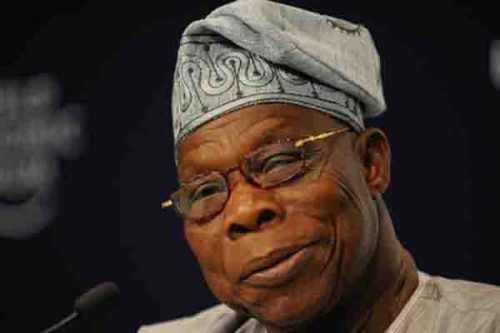 The National Open University of Nigeria (NOUN) says the inaugural lecture for its Olusegun Obasanjo Centre for Good Governance will be delivered by the former president.
NOUN's Vice-Chancellor, Professor Abdalla Adamu, who disclosed while addressing newsmen on Thursday, said the lecture was scheduled for May 2 at Yar'adua Centre, Abuja.
He said that the centre was named after Obasanjo in order to honour him for his rare achievements and for reviving NOUN.
Adamu said that President Muhammadu Buhari would be the special guest of honour, while former Ghanaian President, Mr John Mahama and former Chief Justice of Nigeria Aloma Mukhtar would co-chair the occasion.
The vice-chancellor said that the essence of setting up the centre was to facilitate research toward achieving excellence in good governance and development in Nigeria.
"Part of the effort to make NOUN visible and re-position it was to create centres of excellence.
"The Centre for Good Governance and Development was named after Obasanjo because he resuscitated NOUN in 2003 after it was abandoned in 1984.
"It was our honour and privilege to request from him that we name the centre after him and he obliged; we appealed to him to deliver the first lecture of the centre and he accepted.
"He is currently pursuing his Ph.D in NOUN; he is not pursuing it because he needs money or job but because he needs knowledge,'' he said.
Adamu added that Obasanjo was one of the few presidents in Africa that went back to school after leaving office.
On his part, Prof. Abdullahi Shehu, Director, Olusegun Obasanjo Centre for Good Governance, said that the centre was to immortalise Obasanjo for his contributions to good governance.
He listed some of the aims of the centre as undertaking research related to good governance and development with particular focus of Nigeria.
Others are to focus on intellectual research on corruption, provide knowledge for the prevention of corruption, and to develop programmes on good governance.
READ: NG0 Trains Community Leaders On Safe Motherhood
Shehu said the choice of Obasanjo was informed by the fact that he acknowledged that corruption was pervasive and made efforts to curb it.
"The first bill he presented to National Assembly was the Independent Corrupt Practices and Other Related Offences Commission (ICPC) bill.
"He also went ahead to establish Economic and Financial Crimes Commission (EFCC) the first of its kind in Nigeria.
"He established due process to ensure transparency and accountability which transformed into Bureau of Public Procurement.
"He established the Financial Intelligence Unit which helped the Ministry of Justice in the recovery of stolen fund—the highest sum recovered so far was during his tenure,'' Shehu said.
The professor of criminology said that activities of the centre would be more of research and psychological than being a watchdog.