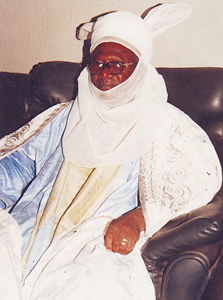 Alhaji Isah Mustapha Agwai, the Emir of Lafia in Nasarawa State, has praised the Inspector-General of Police, Alhaji Ibrahim Idris, over tough measures adopted to tackle crime in the country.
"The emergence of Idris as IGP has brought renewed rigour to the fight against crime. Officers and men of the Nigeria Police Force are now more committed to ensuring a crime-free Nigeria," Agwai said on Friday in Lafia.
The Emir spoke when Mr Shuaibu Lawal-Gambo, Deputy Inspector-General of Police in charge of Finance and Administration, paid him a visit as part of his sensitisation tour of the North-Central zone.
He said that the crime rate in his domain had gone down, and urged the police to sustain the efforts.
The monarch described Idris as "a dogged and patriotic fighter that has demonstrated a strong commitment to effective policing", and advised Nigerians to support the Force with information to ease the war against violence.
READ: IGP calls for more efforts to end violence against children
He called for more efforts to check vices like electoral fraud, insurgency, kidnapping, terrorism, cattle rustling and rape.
Earlier, Lawal-Gambo had emphasised the role of traditional institutions in complementing the efforts of security operatives in crime control.
He said that the visit was to sensitise the people on the need for unity and peaceful coexistence, and also educate them on the importance of community policing.
The official attributed the modest achievements of the police in crime fighting to the support of traditional rulers, and called for more cooperation so as to record more successes.