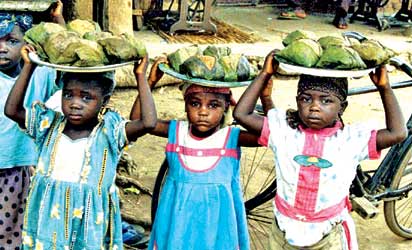 The Inspector-General of Police (IGP), Mr Ibrahim Idris, has called for concerted efforts by all stakeholders to eliminate all forms of violence against children in the country.
Idris made the call at the foundation laying ceremony of the first model children's police unit at the Maitama Divisional Headquarters on Friday in Abuja.
The project is sponsored by the UNICEF in collaboration with the Gender Unit of the Nigeria Police Force.
Represented by Mr Salisu Fagge, the Assistant Inspector-General (AIG) of police in charge of Zone 7, Idris said the police was committed to promoting and protecting the rights of children
"I hereby welcome and challenge every domestic and international governmental and non-governmental organisation to join the train of supporting, protecting and promoting the affairs of children across the country to see that violence of all sorts against children is put to zero per cent in our country.
"I wish to further inform the UNICEF representatives present here that my administration is committed to giving you every support you need in your cause of promoting and protecting the rights of children as fundamentally enshrined in both the International Conventional Charter and domestic laws of our states across the federation.
The IGP also solicited the support of individuals and organisations for the police, especially in the area of training and retraining of its personnel, to attain best international operational standards.
The Deputy Representative of UNICEF Nigeria, Mr John Agbor, said the foundation laying ceremony demonstrated the commitment of the police to effectively handle cases involving children.
READ: Female robbery suspects in Police net
"The Child Rights Act provides for specialisation within the Nigeria Police Force and establishes Specialised Children Police Units consisting of police officers who frequently or exclusively deal with children.
"As one of the five Global Pathfinding Countries, the Federal Government of Nigeria is taking the right steps towards ending violence against children.
"It is our sincere hope that this and other specialised units, that we will see in the near future in Nigeria, will be staffed by dedicated and trained police officers who are able to handle children's cases effectively in a safe environment.
"This will encourage reporting of cases by community members and bring perpetrators of violence against children to justice."
Assistant Commissioner of Police Margaret Ochalla, the Gender Coordinator and Adviser to the IGP, said the unit would coordinate activities of the police in cases relating to gender and children.
Ochalla said that the establishment of the unit was also informed by the need for a sustainable institutional platform for interaction between relevant state and non-state actors.
The unit, according to Ochalla, will equally help the police to "generate intelligence relating to gender and children's crimes and maintain a data base on gender/children based violence".