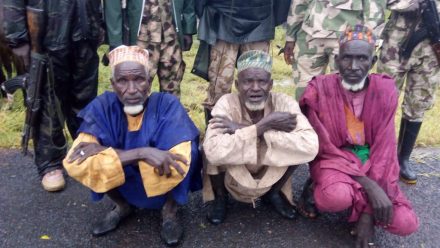 Nigerian military authorities said they have arrested Boko Haram Islamist insurgents, including three Chadians caught in a gun battle in northeast Borno State.
The insurgents attacked Madagali town in Adamawa State and Limankara village in Borno state, Akinloye Badare, spokesman for military Task Force in Borno said Sunday in an emailed statement. The military foiled the attacks, he said.
Nigerian troops also killed six Boko Haram fighters at Dissa and Patawe villages in Borno State before the exchange of gunfire with the Chadian insurgents, according to Badare.
Nigeria is battling an insurgency by Boko Haram, which seeks to impose its version of Islamic rule on Africa's most populous country with more than 180 million people. The conflict has spilled over to neighboring countries and tens of thousands of people have died in the group's violent campaign.
The militants have caused $9 billion of damage since the beginning of their insurgency in 2009, according to the United Nations.
Bloomberg

Load more