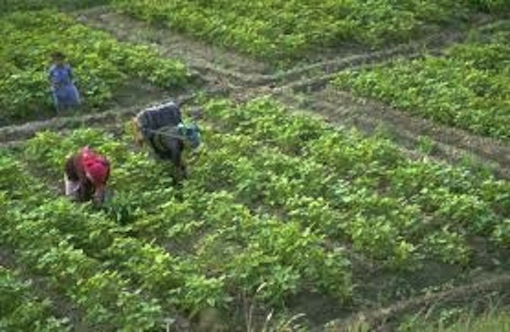 The Kaduna State Commercial Agricultural Development Projects (CADP) has disbursed N811.6 million to 3,401 farmers' groups to finance their agribusinesses.
Aliyu Saidu, Communication Officer of the CADP disclosed this to the News Agency of Nigeria (NAN) on Sunday in Kaduna.
Saidu explained that 2,960 male and 441 female farmers received the amount in commodity and farm inputs under the CADP Commodity Interest Groups (CIG) programme.
Farmers are expected to use the farm inputs to enhance their value-chain in Maize, fruits and diary production in the state.
NAN reports that the CADP is a World Bank assisted programme, implemented in five pilot states of the federation.
The programme began in 2010 with 150 million U.S. dollar funding from the World Bank with seven years implementation timeline.
The bank introduced the programme to expose farmers to modern skills in agribusinesses.
It was implemented through value-chain scheme in different crops, livestock and aquaculture.
It also provided infrastructure and services to ease farmers' challenges of evacuating produce from their farms.
NAN further reports that Kaduna, Kano, Enugu, Osun and Lagos states participated in the pilot programme according to their areas of comparative advantage.
The programme also focused on skills acquisition, agribusiness development plans as well as technology-based farming methods.
It aimed to expose farmers to application of modern technologies and skills in production processing and market of commodities that could compete in the global market.
The programme was implemented in Kaduna state across five value-chain items including crops, livestock, Diary, Aqua/fishery and fruits production.
Saidu said 85km paved and unpaved access roads were also provided to some 13 local government areas, where the value-chain programmes were executed.
"CADP also established milk collection centres in three major grazing reserves in Kachia, Birnin Gwari and Kubau local areas in the state.
"It equally provided skills to 1,176 women and youth groups in diary, Aqua/Fishery, poultry, maize and fruits production and processing," he said.
According him, 76 youths and women groups benefitted in the first batch of training in the CADP five value-chain programmes in the state in 2014.
He said N3 million funding had been provided to each of the beneficiaries, who had established poultry, Fish farms and fruit processing businesses.
The training took place at the College of Agriculture and the National Animal Production Research Institute, Ahmadu Bello University (ABU), Zaria.
He said that some 1,100 women and youth groups also benefitted from poultry, fisheries and diary Value-chain training during the period of the programme.
According to him, 250 investment plans had so far been approved by the World Bank, while procurement process for the finance is expected to commence next week.
Saidu noted that, another batch of 200 beneficiaries under Diary development within and outside the grazing reserves would soon receive support after counterpart funding from the state government.
The official said the State Government had already established three Maize Aggregation Centres that would serve as one-stop market for high-grade, germ-free maize.
READ: Cocoa production: Ondo declares state of emergency
Saidu said that the pilot programme, which was successful, had brought lots of value addition the production, processing and marketing of the crops livestock and fruits in the state.
"The programme had empowered thousands of women and youths with agribusiness skills.
"Also, Under the Demonstration and technology adoption, the CADP project introduced the Artificial animal insemination (AI) and Afla-safe production of maize," Saidu said.
The communication officer said Maize farmers are now linked to better market collaboration with their counterparts in other states.
"Sunchin Farms in Enugu and Lagos State Poultry Farmers' Association now patronise maize from Kaduna farmers for their feed production because of its quality.
To him, the programme had exposed farmers to global best practices in terms of maintaining farm record books and the establishment of farmers' cooperative groups for easy financing by commercial banks.
Load more