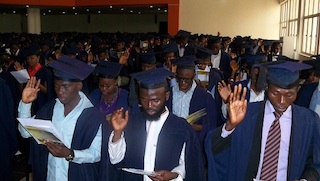 A don at the Federal University of Technology (FUTA), Prof. Bun'yamin Abdulkareem, has decried what he called the glorification of academic certificate to the detriment of technical competence in the country.
Abdulkareem spoke on Monday in Idanre at a special retreat, organised by the Muslim Students Society of Nigeria (MSSN), Ondo Area Unit for students from the South-West and their colleagues from Edo and Delta.
He said that technical competence was needed to propel the country to the peak of societal development in the global community.
The university lecturer argued that rather than seeing academic qualification as the ultimate, the society should be passionate about all development issues, particularly the aspect of technical know how.
"Parents and guardians should desist from promoting material acquisition at the expense of pristine moral standards.
"We should all recognise the fact that societies that are passionate about all round development, do not look down on any set of individuals," he said.
Also speaking, Dr Musa Sekoni, advised the Joint Admission and Matriculation Board (JAMB) to rescind its decision to grant learning opportunities to admission seekers on the basis of weighing scale of grades scored at the Senior School Certificate Examination.
"Such a move will only promote excelling at all cost, a situation which will push the young minds to cutting corners in examination halls in order to acquire higher education," the Sweden based scholar said.
READ: Cultists storm viewing centre, critically wound EBSU student
Musa, who stressed the need for Nigeria to catch up with its contemporaries across the globe, called on government to redouble efforts towards revamping the ailing education sector.
He stated that the massive funding of the sector, as currently recorded in developed nations, should be replicated in Nigeria, the most populous black nation without delay.
Earlier, Mr Olaleye Sulaiman, Ameer, MSSN, Ondo Area Unit, said the Islamic vacation course was necessary to groom young minds against corruption and other social vices.

Load more