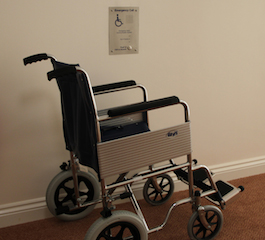 Dr Samuel Ankeli, the Senior Special Assistant to the President on Disability Matters, said that government was committed to providing welfare support and dividends of democracy to individuals living with disabilities.
Ankeli disclosed this in an interview with the News Agency of Nigeria (NAN) on Wednesday in Abuja.
He said that government was promoting disability inclusive policies to ensure the achievement of the Sustainable Development Goals (SDGs).
According to him, this present administration wants to correct the mistake of the past where disable individuals were not employed and empowered.
READ: Thousands Of People To Feed From Waste Bin
"We met a system and we are trying to correct that system, it took us years to get to this level of damage and we are committed to repairing it.
"It will take some time but the process has begun. We are promoting a disability inclusive development as ensure in our policy of sustainable development goals.
"Employment is just one out of many critical areas that concerns us and people with disabilities among others like health, education, employment, empowerment, housing and transport.
"The Federal Government has a development policy strategy and all we are saying is that in every policy developed we should be considered.
He said that his office was to supervise the structure on ground and supervise its effective implementation.

Load more