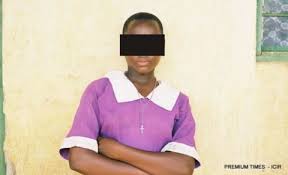 A 46-year-old man, Suleman Adamu, appeared in a Jos High Court on Tuesday, charged with allegedly raping an 11-year-old girl.
Adamu, a specialist in piecing firewood, who resides in Rikkos area of Jos, is standing trial on a one-count charge of rape.
The News Agency of Nigeria (NAN), reports that the accused person had been in prison custody since he was first arraigned on June 14, 2014.
According to the prosecutor, Mr J.D. Longden of the Plateau Ministry of Justice, Adamu committed the crime on March 7, 2014.
Longden said that the mother of the victim, Mrs. Margret Ikokoyo, who lives at Anglo-Jos, reported the matter at the 'A' Division of Nigeria Police, Jos on March 7, 2014.
He alleged that the accused person lured the victim into a bush and raped her.
The prosecutor claimed that the accused had confessed to the police that he raped the minor after enticing her with "sweet talk and promises".
READ: 3 Fleeing Kidnappers arrested in Lagos
Longden said that the offence contravened Section 282 of the Penal Code, adding that offenders were liable to 14 years imprisonment on conviction.
His claim was corroborated by the investigating officer, Mr A.S. Bilong, from the Nigeria Security and Civil Defence Corps (NSCDC).
Counsel to the defendant, Mr M.S. Salihu, however, declared that the said confession was not credible, arguing that his client was tortured by the police to write it.
Salihu urged the court to evoke Section 29 (3) of the Evidence Act, to conduct a trial within trial, to find out if the statement was obtained voluntarily.
Justice Nafisa Musa, after listening to the plea, adjourned the matter to May 24 and 25 for trial within trial, and the continuation of hearing.

Load more