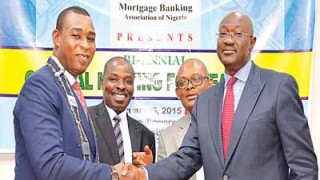 The Mortgage Banking Association of Nigeria (MBAN) says it is planning enlightenment campaigns on ways to access mortgage finance in the northern part of the country.
Alhaji Babangida Umar, its Northern Region Vice President, made the promise when he spoke with newsmen on Tuesday in Dutse.
Umar said the gesture was aimed at bridging the gap in mortgage patronage between the northern and southern parts of Nigeria.
"Following low level of accessing mortgage funds due to poor knowledge of mortgage finance in the north, the association plans to carry out enlightenment campaign for civil servants and other categories of people across the northern region.
"The sensitisation becomes necessary when one considers the gap in mortgage patronage between the north and south," he said.
Umar, however, did not mention when the enlightenment campaign would start, saying "the leadership of the association will soon meet and map out when to commence the sensitisation tour".
Umar, who is also the Managing Director of Jigawa Saving and Loans, said that the bank had been recapitalised from share capital of N500 million to N2.5 billion.
According to him, over 30,000 individuals, mostly civil servants, had opened accounts with the Bank with a view to accessing mortgage loans.
READ: Housing: FG provides FMBN with N500bn to resuscitate mortgage facilities
"Knowledge of mortgage finance is very poor among civil servants and other categories of people in the northern region.
"It is on this background that our association is planning to embark on tour of the region to sensitise the people on mortgage finance benefits and ways to access the funds.
"Jigawa Savings and Loans is one of the best state owned mortgage finance institution on ICT compliance in the country.
"At present all our transactions are International Reporting Finance Standard (IRFS) compliant," Umar said.
Load more