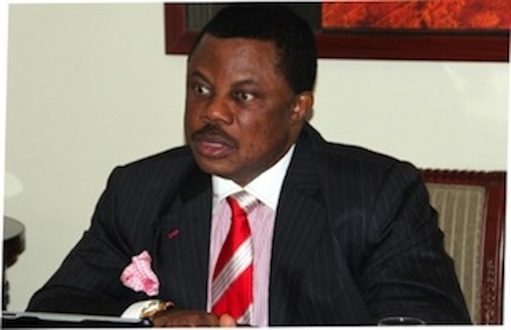 Gov. Willie Obiano of Anambra has solicited the partnership of the Nigerian Institute of Town Planners (NITP) to upgrade slums in the state to a more comfortable place for habitation.
Obiano made the call when he opened the 19th edition of the Mandatory Continuing Professional Development Programme (MCPDP) of the institute in Awka on Wednesday.
"We need you to assist in tackling slums in Onitsha and environs with a view to integrating the people and providing them with some comfort.
"As a government, we are trying to do a reorientation of the minds of our people so that they can begin to appreciate good things and environment," Obiano said.
The governor, represented by the Commissioner for Works, Mr Law Chinwuba, said his administration attached more importance to the profession with the appointment of town planners in requisite offices.
He said the government had achieved a lot in security of lives and property, prompt payment of workers salary, pensions as well as human capital development.
Earlier, the National President of the NITP, Mr Luka Achi, maintained that 30 per cent of all urban dwellers lived in slums; a proportion, which he said, had not changed in decades.
Achi said it was the desire of the institute to analyse the validity or otherwise of the informal settlements with the hope of giving direction to policy makers on how to cope with such settlements in the country.
The national president was represented by Mr Lekwa Nzuta, the first national vice president of NITP.
In a goodwill message, Prof. Layi Egunjobi, President, Town Planners Registration Council of Nigeria (TOPREC), advocated the integration of informal settlements into the society as against its clearance.
Egunjobi contended that integrating settlements would save cost and would not disrupt the inhabitants psychologically.
READ: Edo government to renovate Central Medical Stores
He said this could be achieved by understanding the existing situation of informal sector dwellers and ensuring their participation during the planning.
The president said minimum demolition and improved accessibility, minimum planning standards for layouts and funding and the political will of leaders must be ensured for its implementation.
The state chairman of NITP, Mr Joachin Ulasi, said the theme "Enhancing Livability of Informal Settlements" was apt in view of the urban explosions without commensurate efforts at meeting the problems.
"As a result, we witness inadequate infrastructural provisions, haphazard siting of structures, lack of urban water supply, general absence of urban facilities and absence of relevant plans.
"This has resulted in the growth of slums in almost all the states," Ulasi said.
Ulasi commended the state governor for establishing the state Physical Planning Board, Awka Capital Territory Development Authority, 21 planning authorities in all the local government areas.

Load more