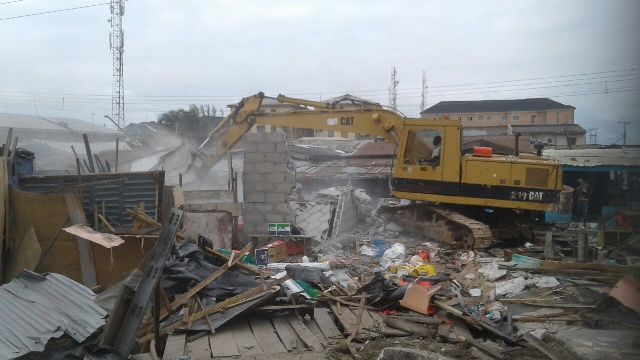 Traders at the popular Mile 1 Flyover market in Port Harcourt, on Wednesday, decried the unexpected demolition of the market by the Rivers Government.
Mrs Beauty Komi, a widow and trader on secondhand children's clothes, in Port Harcourt said that by the exercise, her only source of livelihood had been destroyed.
Komi, a native of Wigbara, Gokana Local Government Area of Rivers, added that the action of the government had left her confused.
"This is my only source of livelihood. It's only from here I get money to feed and train my children.
"I trade on secondhand children clothing, now that this market has been demolished, I'm confused and don't know the way forward," she said.
Mr Uchenna Madu, another trader and father of seven children, who also decried the demolition of the market, described it as inhuman.
Madu, a former vice chairman of the union, said that no government official informed them of the need to relocate, adding that the destruction of the market started as early as 5:00 hours on April 25.
"They have destroyed our goods. This is a wicked act. During the 2015 campaigns, Gov. Nyesom Wike promised to build the market and make it conducive for us.
" We voted for Wike, this is what they are paying us back with. The government is out to frustrate us," he said.
Mr Azubuike Onyeji, a trader on locally produced shoes, said that they were only told not to put on umbrellas at their various stands.
"We obeyed them but just last week a pregnant woman fainted due to the intensity of the sun because there was no umbrella to shield her.
" We even contributed money to reach out to the authority to allow us put on umbrellas but I'm surprised they are here today to demolish the market," he said.
Mrs Betty Nyesom, a native of Obio/Akpor Local Government Area of the state, said that she was unhappy with the demolition, saying it was a threat to her family's survival.
Nyesom said that most of the women affected by the demolition were widows and that others' husbands were not gainfully employed.
"The boys here don't want to be involved in social vices. Some of the girls here came out from brothels are not willing to go back to such life again," she said.
Mr Chinyere Igwe, Rivers Commissioner for Urban and Physical Planning, said government held several meetings with the traders before the demolition.
He described as untrue, allegations by the traders that they were not consulted before the government took action.
Igwe also said that the traders were free to apply for shops in markets within Port Harcourt City Local Government Area.

Load more