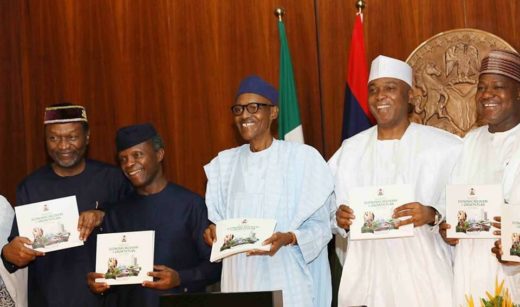 The Federal Government says it has commenced a detailed cost analysis and financing plan, to achieve the Economic Recovery and Growth Plan (ERGP).
The Minister of Budget and National Planning, Sen. Udo Udoma, said this at the 2017 Annual Public Lecture of the Nigerian Economic Society (NES) on Thursday in Abuja.
The Theme of the Lecture is "Economic Management under an Era of Downturn''.
Udoma, represented by his ministry's Director, Macroeconomic Analysis, Mr Tunde Lawal, said a team of experts had been put together to work on the plan in collaboration with the budget ministry and relevant bodies.
"We have commenced the development of the ERPG implementation plan. The implementation roadmap will provide more detailed strategies, timelines and deliverables of the plan on a year-by-year basis.
"The team of experts is expected to work out a more detailed cost estimate and financing plan with detailed key performance indicators for implementing the plan,'' he said.
Udoma said that the government was committed to providing an enabling environment for business to strive and for that reason, it would continue to priotise spending on critical infrastructure.
Udoma said Nigerians would soon begin to feel the impact of the Presidential Enabling Environment Council, which aimed to improve the country's ranking on ease of doing business.
"Furthermore, there is a number of Public Private Partnership (PPP) projects included in the 2017 budget in the areas of critical infrastructure.
"This is aimed at creating opportunities for the private sector to participate in the development of the country.
"Therefore, while government is committed to finding the resources to invest on infrastructure, the private sector and well meaning Nigerians should collectively create jobs and put our people back to work,'' he said.
Earlier, the President of the Nigerian Economic Society, Prof Ben Aigbokhan, tasked the Federal Government to identify and promote the development of sectors which Nigeria had comparative advantage over others.
Example of the sectors are the manufacturing and industrial areas.
He said it was important for the government to implement policies that would lead to the industralisation of the country.
READ: CD advocates confirmation of Magu as EFCC boss
To do this, he said it was still necessary for the Central Bank of Nigeria to review its current exchange rate policy, to favour exporters and industrialists.
Aigbokhan also called on the Federal Government to fine-tune the ERPG, which could take the country out of recession and ensure a more sustainable growth in future.
President Mohammadu Buhari, earlier in April, launched the 2017-2020 ERGP, seeking to restore the nation's economic status following the high rate of inflation and recession.
It projects that Nigeria will make significant progress to achieve structural economic change with a more diversified and inclusive economy in five key areas by 2020.
The areas are stable macro-economic environment, agricultural transformation, food security, sufficiency in energy and improved transportation infrastructure.

Load more