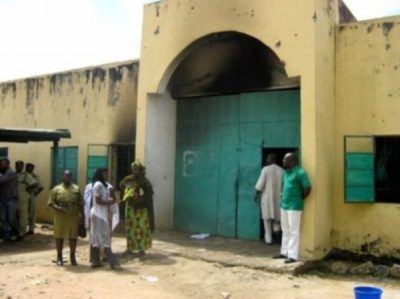 Jethro Ibileke/Benin
Authorities of Oko Medium Prisons in Benin, Edo State Tuesday organised a talent hunt concert, as part of rehabilitation and reformation programme for the inmates.
Tagged "Oko Prisons Concert Show," the concert which featured comedians, musicians​, dancers and drama groups, led to the discovery of talents among the inmates.
Speaking at the event, the Assistant Comptroller (Welfare) of Oko Prisons, Mr. Julius Osemwegie, said the motive behind the concert was to discover talents among inmates in order for them to contribute to the society.
"We started this concert since 2014 as part of Welfare Department's rehabilitation and reformation programme.
"We see Prisons as a place to reform and rehabilitate inmates so that when they come out, they can contribute to the society positively and stay away from crime.
"We also encourage inmates on education, skill acquisition programs as well as sports.
"The programme is already yielding fruits as some of the inmates have started producing albums on music and comedy of their own," Osemwegie ​said.
He disclosed that one of the inmates who passed his West African Examination Council while in Oko Prison, was later admitted to study Computer Engineering and he has since graduated.
Osemwegie who appealed to the general public to assist the inmates on the concert programme financially so that it would be sustained, confirmed that people have been assisting freely with musical instruments.
On her part, the Welfare Officer of the State Command, Mrs. Augustina Iyamu, lauded the performance of the inmates, adding that her interaction with the inmates has made her to be a responsible mother.
"We allowed the concert so that you can bring out the best in you. Please work on your talents​ that you have displayed today when you leave here.
"You can not do anything without plans, the Prisons have left the era of behind the walls, but life behind walls.
"I believe that in the nearest future, you will come out a better person," she said.

Load more