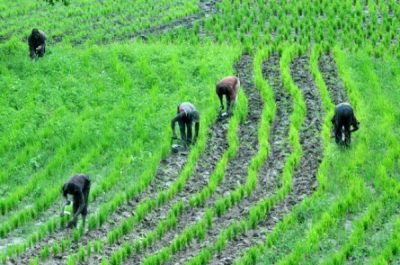 An ex-leader of a militant group, Mr Paul Eris, has established a rice farm at Peremabiri Community in Bayelsa to reduce hunger and curb crime.
Eris was formerly known as `Ogunboss' in the creeks when he was a militant.
Eris told newsmen during a tour of his farm on Thursday that the initiative was also to boost commercial rice production and create jobs for the youth.
Eris said that the farming began on Feb. 6, 2017 in a 51.5-hectare swampy forest which had been cleared.
He hoped that the farm, known as Tanko Farms, would increase by 200 hectares in 2018.
The former militant said that the farm had received 300 bags of paddies from the Federal Ministry of Agriculture.
According to him, the farm has acquired a rice milling machine which is serving rice farmers in the area.
Mr Rowland Kiente, a rice farmer in Peremabiri, told journalists during the tour that the milling machines ensured production of stone-free rice.
Mr Alagoa Morris of the Environmental Rights Action, Mr David West of the Civil Liberties Organisation and Eberesikimo Gbassa, a rights activist, who also toured the farm, hailed the initiative.
They hoped that it would go a long way to boost food production and stimulate economic activities.
They called on the state government to support farmers and construct a road from Yenagoa to Peremabiri to encourage Tanko Farms.
Peremabiri Community is in Southern Ijaw Local Government Area of Bayelsa.
It is located along the River Nun in the Bomo Clan of Southern Ijaw.
The community is accessible through water transportation from Yenagoa.
It hosts the abandoned Irrigated Rice Farm Project, established by the then Niger Delta Development Board in 1962

Load more