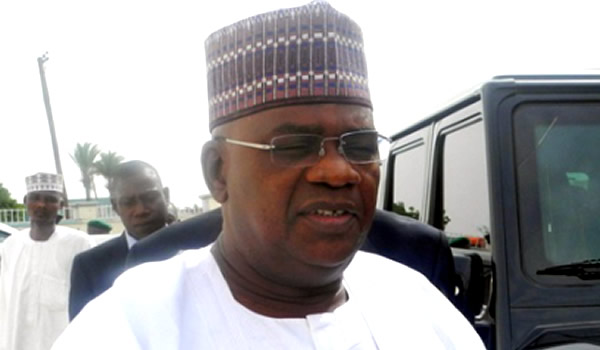 The Nigeria Police Force on Thursday disclosed that it recovered 38 files and six envelopes containing documents and write-ups on how former Kano State governor, Ibrahim Shekarau plotted the assassination of Sheikh Jafaru during the raid on Senator Danjuma Goje's residence in Maitama, Abuja last week.
The police also denied carting away the 2017 proposed appropriation bill during their raid.
The police in a statement on Thursday by the Force Public Relations Officer, Jimoh Moshood, added that N18.056 million, $19,850 and SR9, 400 (Saudi Riyals), and a laptop were also recovered during the search.
He stated that detectives also recovered files on funds spent on security administration and information gathering– a-g, 2009; file on release of funds for Special operations a- f, 2009; file on Gombe State government cash inflow 2005; file on Project 2007 – Executive Briefs on how to fight opposition in Gombe State – Strategies and Tactics.
Other exhibits included envelopes containing permit to operate as an Oil Industry Service Company (special categories) 2011 and letters from Alhaji Mohammed Danjuma Goje (Sarkin Yakin Gombe) to the Managing Director, LUBELL Nigeria Ltd. of proposed residential Devt at Kashere Phase II dated January 16, 2007 and November 19, 2010.
"The Nigeria Police Force wishes to state categorically that there was no single document relating to 2017 budget sighted or removed by the Police team that executed the search warrant. There is video recording of the execution of the search warrant," the statement said.
The Force disclosed that the search warrant from a court of competent jurisdiction was executed at the former Gombe governor's residence following intelligence report that stolen funds and other incriminating items were about to be moved out of the house.
Moshood said that on arrival of the police team, the house keeper, Ango Usman informed Goje about their mission and he promised to come around, but later switched off his cell phone.
He said, "The search warrant was successfully executed in the presence of three close relatives of Senator Danjuma Goje who are residing in the house and the recoveries were made in their presence.
"The relatives-Danjuma Mohammed, nephew to the Senator, Usman, house keeper and Aisha Umar, stepdaughter to Goje-opened the house and took the police team round the building, and endorsed their signatures after the completion of the search as required by the procedure of law on search warrant which contained the money, documents and laptop recovered, and none of the items include 2017 budget document."
Moshood stated that the Inspector-General of Police had appeared at the National Assembly on Wednesday to explain the legality of the search that was executed at Goje's residence.
According to PUNCH, Moshood said the IGP insisted that the police action were in line with the provisions of Sections 4 and 28 of Police Act and Regulations, adding that investigation was ongoing.

Load more