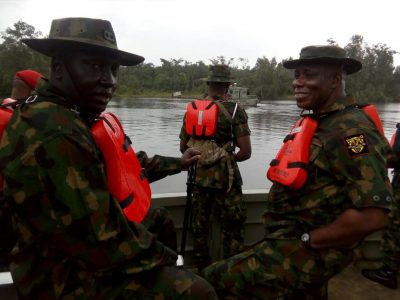 Mr Tonye David-West, Managing Director, Niger Delta Basin Development Authority (NDBDA), on Friday, re-inaugurated SERVICOM in the organisation to enhance service delivery to its catchment areas.
This is contained in a statement issued in Port Harcourt by Mr Obum Akawor, Deputy Director, Public Relations of the authority.
The statement said that the managing director would head the 10-member SERVICOM committee.
It quoted David-West  as expressing regret that the scheme had never been successfully implemented in the authority, while inaugurating the committee.
''This is mainly due to bad leadership. I admonish you to ensure that all staff of the authority are adequately sensitised about the principles of SERVICOM charter.
''I urge every staff member of this authority to endeavour to imbibe the culture of discipline and work ethics at all times,'' he said.
READ: Niger Delta Youths tell Nigerian government to cleanup Ogoni
It said that Mr Isaac Ituorimou, Executive Director, Administration and Finance in the Authority would act as the Protem Nodal Officer.
''Miss Obele Brown, Deputy Director, Administration, is the Customer Relations and Complaint Desk Officer, while Mr Ikye Obuah will serve as Service Improvement Desk Officer.
''Other members are Mr Reuben Nnah, Mr Godfrey Amadi, Mr Humphrey Tasie, Mr Timipa Temekein and Mr Aliebiri,'' the statement added.

Load more