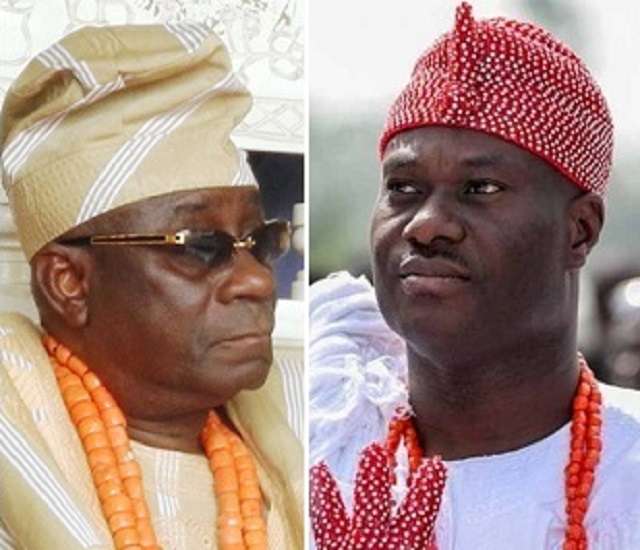 Oba Rilwan Akiolu of Lagos has responded to the video which went viral in the social media of him allegedly snubbing the Ooni of ife, Oba Adeyeye Ogunwusi at a public function.
The Lagos monarch said his greeting was misconstrued in the social media as a snub whereas that form of greeting is peculiar to the Lagos traditional institution.
One of the Lagos white cap chiefs, Lateef Aderibigbe Ajose, Opeluwa Onido of Lagos, who spoke on behalf of Oba Akiolu, said the Lagos Monarch did not snub Oba Ogunwusi at the public function as being misconceived by people.
He said Oba Akiolu's response to Ooni is the culturally acclaimed way of greeting by a monarch in Lagos. He added that the Lagos King is basically trying to revive the culture and tradition of ancient Lagos which is peculiar to the State.
Other tribes also have their peculiar ways of greeting.
"The sign by Oba Akiolu signifies, 'inu mi, inu e', the culture of greeting in Lagos. If Oba Akiolu wanted to ignore, he would have turned his face away from Ooni", he said.
In his words, "there is no misunderstanding between both highly revered Monarchs in Yoruba Land".
According to him, the relationship between both Yoruba kings is peaceful and mutual.
"Oba Akiolu was well represented at the coronation of Ooni of Ife, which attested to the fact that he does not disregard the office of Ooni Adeyeye.
Chief Ajose said Oba Akiolu had waited till this time to react to the issue because he had to meet with other chiefs in the palace and meet minds before addressing the public on the matter.
"There is no sentiment in the culture of Lagos. As we met it that is the way we are doing it. Kabiesi Oba Akiolu is trying to bring back the old pattern, the old culture we have left behind"
"What happened that day was wrongly speculated by the social media to disrupt peace and order and misinterpret Oba Akiolu's action."
"We just want to appeal to the social media to stop spreading wrong information. They should try and understand the reason behind every action carried out most especially by traditional rulers"
"Yoruba has a very rich culture. There is no quarrel between the Oba of Lagos and Ooni of Ife"

Load more