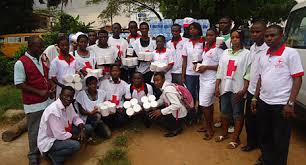 The Nigerian Red Cross Society (NRCS), has advised employers  to provide adequate first aid training to employees on handling small incidents to emergencies that could occur at work places and the environment.
Mr Bashir Dan-Illela, National First Aid Trainer, NRCS, gave the advice in an interview with the News Agency of Nigeria(NAN) to commemorate "World Day for Safety and Health at Work 2017'' in Abuja.
NAN reports that, World Day for Safety and Health at Work'' is commemorated annually, on April 28, to promote the prevention of occupational accidents and diseases globally.
Dan-Illela said the knowledge of first aid management could help reduce the number of health challenges and causalities recorded in work places and the environment.
"No matter how safe an environment is injuries and accidents must occur, that is why preparation is very important and everyone must be prepared for such emergencies.
"Preparation happens when people or employees are adequately trained on basic techniques of first aid thereby educating them on types of intervention to administer when emergencies occur.
"It is not about taking medication or giving treatment , rather applying  simple techniques that will promote recovery, ensure lives are saved, and injures sustained is not aggravated or become life threatening.
"First aid indeed helps to save lives, we may have the intention to help, but without the knowledge of first aid, we may cause more harm to the causality,'' he said.
Dan-Illela said that the first hour in any emergency intervention was called "The Golden Hour", stating that time management was crucial and if delay occurs, the effectiveness of the response may not be achieved.
READ: Declare your health status to Nigerians now, Soyinka tells Buhari
He further advised oganisations to create a stimulation exercise after training to ensure employees have the competence in responding to emerging situations.
"This is done by creating a false alarm to see how they will respond and to know the impact of the training they have received as such will bring the reality out of them.
"Organisations should also put in place  first aid kits because  such materials would assist trained employees respond to emergencies more effectively and efficiently without improvising,'' he added.
The expert also advised management that health records must be kept for all employees under health surveillance.
Records, he added are important because they allow links to be made in emergencies.
He added that channels of contact with various hospitals of members of staff could also be created to make emergency response more effective at work places.

Load more