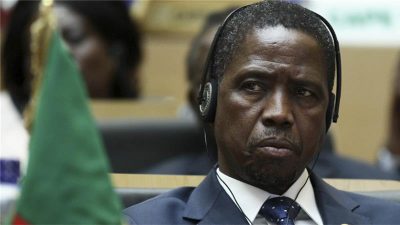 Zambian President Edgar Lungu on Friday denied reports that he threatened the Catholic Bishops over their statement on the current political situation in the country.
On Sunday, the Catholic Bishops issued a statement in which they expressed concern over the political situation in the country following the arrest of the country's leading opposition leader, Hakainde Hichilema, who has been charged with treason.
The bishops expressed concern, among other things, the continued use of state institutions by the government to intimidate and silence opposing voices.
On Thursday, some online publications reported that Lungu threatened the bishops and that he will be forced to ban the church in Zambia as it was a threat to peace.
Presidential Spokesperson Amos Chanda dismissed the reports, saying Lungu did not issue any statement threatening the bishops.
"Ordinarily, it is not the culture of State House to respond to any social media stories, however, false, but given the fairly objective disposition Zambia Reports have shown over the years.
"A real possibility exists that the falsehood it has published maybe be construed by the unsuspecting public to be the truth,'' he said in a statement released on Thursday.
He, however, said Lungu had noted the concerns raised by the bishops and that he will in due course engage the church to discuss any matters of national interest.

Load more