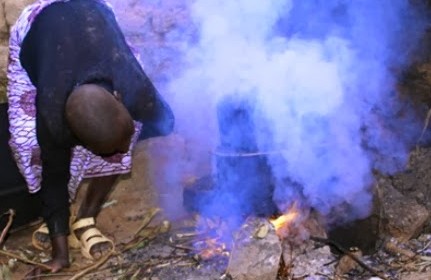 Women's Initiative for Sustainable Environment (WISE) and Women's Earth Alliance (WEA) have trained 30 women from different communities across Kaduna State on how to use clean and energy-efficient cooking stoves.
WISE Founder and Programme Director Olanike Olugboji in Kaduna said that the training was aimed at curbing the increasing deaths, induced by inhalation of firewood smoke.
Olugboji said that more than 93,000 persons in the country, particularly women, died every year due to smoke inhalation while cooking with firewood.
She said that if a woman cooked breakfast, lunch and supper with firewood, the consequence of her action was equivalent to smoking three to 20 packets of cigarettes a day.
She said that smoke was the biggest killer of people, particularly women and children, after malaria and HIV/AIDS; adding that not less than 72 per cent of Nigerians solely depended on fuelwood for cooking their meals.
"Also, Nigeria's fuelwood consumption is about 80 million cubic metres, making biomass fuel the most common source of household energy in Nigeria.
"The traditional cooking method using firewood burns 90 percent more wood than is necessary; costing poor families a lot of money which, otherwise, could have been spent on education, health and nutrition, among others.
"Similarly, governments have not made significant progress in the fight against deforestation because people have continued to use wood as cooking fuel, even in urban areas,'' she said.
Olugboji noted that most people were either not aware of the grave health, environmental risks associated with traditional open fire cooking or could not afford cleaner options.
"Women sit around the fire while cooking, with eyes becoming red with tears, nose dripping, and sometimes, with babies strapped on their back.
"This affects pregnant women and their unborn babies; some become cancer patients, with lungs infections and other diseases, leading to preventable deaths.
"Some even got beaten whenever food is not ready on time because they are using firewood,'' she said.
Olugboji said that the training was, therefore, designed to build a movement of women entrepreneurs and advocates of clean cooking stoves in their communities.
She said that the exercise was also aimed at creating the needed public awareness on the benefits of using clean cooking stoves.
She stressed that the use of clean cooking stoves would improve women's health and safety, reduce deforestation and boost household savings.
Olugboji said that the measure would also enhance the quality of the air people inhaled, reduce deforestation, increase household savings and improve people's health and safety while transforming the women's sense of personal and communal empowerment.
"This will also facilitate the work of clean energy advocates at the local and national levels, particularly in a region severely affected by climate change, deforestation and poverty and where many women become sick or die from smoke inhalation from traditional open stoves,'' she said.
She said that if the 30 women, who partook in the training, launched clean cooking stove enterprises, the message would reach 13,000 people in Kaduna State while providing opportunities for households to access and use clean cooking stoves, which were cheaper and safer.
The programme director said that beneficiaries of the training were drawn from various women groups, civil society organisations and non-governmental organisations across the state.
Olugboji said that the beneficiaries would receive business startup grants to enable them to initiate clean cooking stove businesses in their respective communities.
"To this end, we have trained them on entrepreneurship, economic principles of business, leadership and marketing,'' she added.
Some of the beneficiaries, who spoke with newsmen, thanked WISE and WEA for the training, saying that it would positively impact on their lives.
One of them, Biola Kamardeen, said that the training had exposed them to the availability of alternative cooking stoves that were smokeless, health-friendly and environmental-friendly as well as cost-effective.
She said that the beneficiaries would take the message to all the neighbourhoods of the state so as to sensitise the women to the dangers of cooking with firewood and the need to embrace the use of alternative clean cooking stoves.
Another beneficiary, Mrs Rifakatu Buba, also pledged to promote the use of clean cooking stoves in her community because of her awareness of the dangers of cooking with firewood.
The training, which began on Monday, April 24, ended on Friday, April 28.

Load more