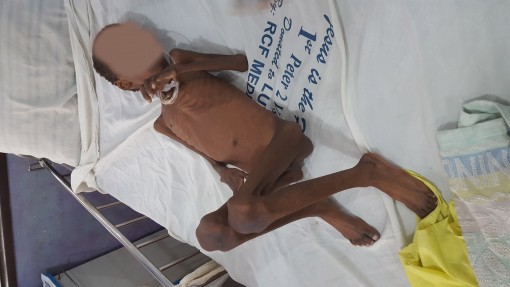 Dr Chris Isokpunwu, the Head of Nutrition, Ministry of Health has urged parents and the general public to adopt positive behaviour toward improving the nation's nutritional status.
Isokpunwu made the call at a media dialogue on child malnutrition organised by the United Nations Children Fund (UNICEF) on Friday in Enugu with the theme; "Investing in child malnutrition''.
Delivering a paper on "Scaling up  Nutrition in Nigeria:What is the cost''
he noted that about one million under five children die annually in Nigeria: adding that half of this death was due to malnutrition.
According to him, the number makes Nigeria one of the highest contributors to the world under fives mortality.
Isokpunwu said major causes of malnutrition in the country include households and individual levels.
He called for a change in attitude to address the burden through breastfeeding practice, ensuring that children were de-wormed twice annually and given vitamins supplementation.
Isokpunwu also said that there was the need to observe good hygiene practices and adequate care for mothers and children in the area of food security as well as accessing health care services in the event of any health challenge of the child.
He, however, expressed displeasure on poor hygiene practices by some mothers before or while feeding their children, adding that it deters the child ' s nutritional status.
The expert emphasised that a child suffering from diarrhoea would not be able to retain what he was taking which could lead to under nutrition.
According to him, expectant mothers should endeavour to take folic acid among other antenatal drugs which assist in the cognitive development of the child.
He listed other issues affecting the nation's nutritional status to include poverty, ignorance, sanitation or environment, culture and religion.
Mass sack in BusinessDay, The Guardian as recession bites harder
"Malnutrition indices in children are stunting, wasting and under nutrition
and if mothers can be discouraged from giving their babies water within the first six months, it will be of great help.
"Solutions to the nation's malnutrition burden, however is ensuring you take the child to hospital to get the right care, monitoring the growth of the child, and immunising the child at as when due.
"Micronutrient and de-worming intervention, parents should avail their children of these services.
"Pregnant women need to take iron and folic acid not just for themselves but for the unborn child.
"The first one thousand days of a child from pregnancy till two years is crucial, so adhering to exclusive breastfeeding practice for six months after birth will enhance cognitive development of the child.
"Adequate nutritional diet or complimentary feeding among others are solution to addressing the nation's
malnutrition challenge.
"There is also the need for behavioural and organisational resource development which means human resources training to deliver nutritional services.

Load more