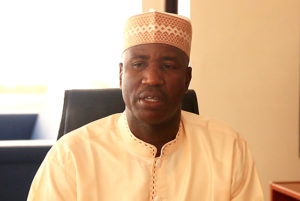 The Speaker of Adamawa House of Assembly, Alhaji Kabiru Mijinyawa, has denied reports that he physically assaulted one of the policemen attached to him who complaint over non-payment of allowances.
Mijinyawa, in a statement Saturday signed by the Assembly Public Relations Officer, Mr Yahaya Daji, described the story as "baseless, false, unfounded and malicious" aimed at denting his image.
Mijinyawa said that as a legislator, he has respect for the rule of law and would not carry out such dastardly act against anybody.
The Adamawa Police Command Public Relations officer, Mr Othman Abubakar, had said that the police was investigating the matter.
Abubakar said that there was allegations that the speaker beat one of the policemen attached to him.
The spokesman who did not give details, explained that the Yola Area Command of the force was investigating the matter.
In another development, the Majority Leader of the Assembly, Alhaji Musa Mahmud, has also denied mob action against him and some lawmakers who went for an investigation at the Yola North Metropolitan Council secretariat.
Mahmud said that the mob that besieged the secretariat during the lawmakers visit on Thursday did not harass nor prevent the lawmakers from their investigative mission to the council.
"The fact is that the protesting youths were not after us; they are just two opposing group of youths.
''Those in support of the suspension of the chairman of the council and those against his suspension who are trying to shout each other down," Mahmud said.
He said that the lawmakers went there to confirm whether the legislative arm of the council complied with the House of Assembly resolution to open the council legislative chamber.
The chamber was closed following leadership crisis; seven out of the 11 members had passed a vote of no confidence on the Chairman of the council.
"During our visit we met the legislative leader who told us that legislative activities could not take place due to absence of the legislative clerk and most of the Councillors.
"We left there immediately because there was no sitting to supervise and not because of mob action," Mahmud said.

Load more