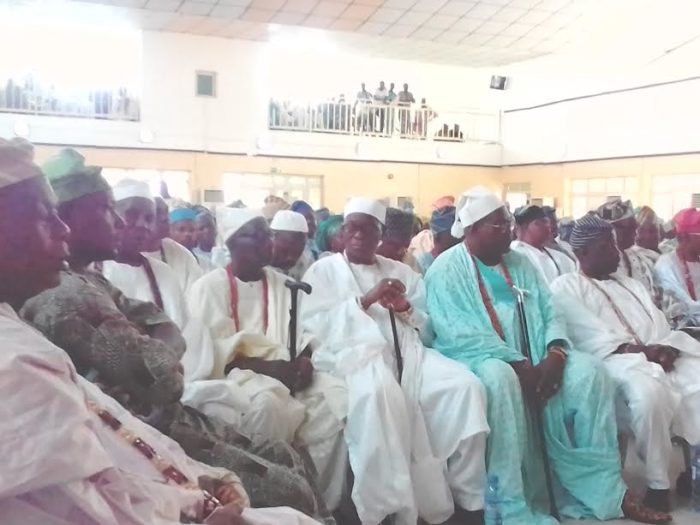 Any baale or chief found to be colluding with militants and other criminals to cause unrest in Lagos State will have their title revoked, dethroned and prosecuted, the Lagos State Government has said.
Commissioner for Local Government and Community Affairs, Muslim Folami read the riot act to hundreds of baales and chiefs at the Adeyemi Bero Auditorium, in Alausa, Ikeja, Lagos, Southwest Nigeria.
Folami said that the administration of Governor Akinwunmi Ambode would not fold its arms while some unscrupulous elements collude with hoodlums to make the state ungovernable.
Speaking on behalf of Governor Akinwunmi Ambode, Folami noted that the meeting with all the Part II and Part III baales and chiefs was on the directive of Ambode to warn traditional rulers who could be involved in aiding and abetting militants in causing mayhem in different parts of the State.
Folami said that the government would be forced to apply the full weights of the law against any baale or chiefs caught colluding with any criminal in the state.
"To show you how serious we were, the Lagos State Governor, Mr Akinwunmi Ambode directed that we summon all of you from all the five divisions of the state to inform you of our resolve as a government to protect lives and properties of all Lagosians and in doing this, we would deal decisively with anyone found colluding with criminals to disturb the peace-loving people of Lagos," he said.
Folami recalled that early this month, militants stormed the riverine community of Ishawo, in Ikorodu, killing a military captain, five other policemen and dozens of residents at the community.
He stated further that the present administration would continue to invest in the security architecture of the state with a view to be responsive to the safety needs of the people, adding that "the Lagos State Neighbourhood Safety Corps, which we just established is another initiative by the government to secure all neighbourhood from attacks, kidnappers, cultists, militants, vandals and other criminals threatening the peace of the state."
He charged all chiefs and baales to be fully committed to helping the government to nip in the bud the spate of violence in the state and not join hands with undesirable elements who were poised to causing unrest in the State.
Folami also addressed the issue of land grabbing, urging all the baales, chiefs and community leaders to eschew greed, adding that anyone caught fermenting trouble in any part of the state would no longer be spared.
In their response, the baales and chiefs urged the government not to hesitate to flush out undesirable elements among them.
One of the baales, the Alakan of Imota, Chief Abudu Sani, also called for transparency in the war against crime, saying that all security agencies should be ready to respond to emergency calls from various communities.

Load more