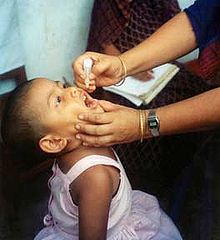 More than 579,540 children under the age of five were immunised against polio in Ekiti during the just concluded first round of the National Immunisation Plus Days between March 25 and March 28.
The Director of Primary Health Care in the Ekiti State Primary Health Care Development Agency, Dr Joshua Ileke, made this known in Ado-Ekiti on Tuesday during a meeting of stakeholders in the health sector.
Ileke said the figure represented 87 per cent coverage of the 667,145 children targeted in the 177 wards across the state.
He said that Emure Local Government recorded the highest coverage in the state with 95 per cent immunisation coverage while Ekiti West recorded the least per cent coverage with 66 per cent during the exercise.
Commending stakeholders for their support in achieving the level of success, Ileke solicited greater support and co-operation from school teachers traditional rulers, religious and opinion leaders.
He said such cooperation was needed for the second round of the exercise scheduled to hold between May 6 and May 9 to succeed.
Ileke said efforts aimed at recording 100 per cent coverage during the next round of the exercise were being intensified.
READ: Expert Advises Nigerians To Regularly Check Their Eyes
He said the State Primary Health Care Development Agency in collaboration with UNICEF, the National Primary Health Care Development Agency and other partners had mobilised over 680 teams for the coming exercise.
Ileke said the teams would immunise children below the age of 5 at fixed posts, health facilities, schools, churches, mosques and households across the state during the four days designated for the exercise.
He said that border synchronization meetings had been held in some selected border communities.
Ileke said this was to ensure that all hindrances that could prevent the coverage of border communities and hard to reach areas were removed during the next round of the exercise.

Load more