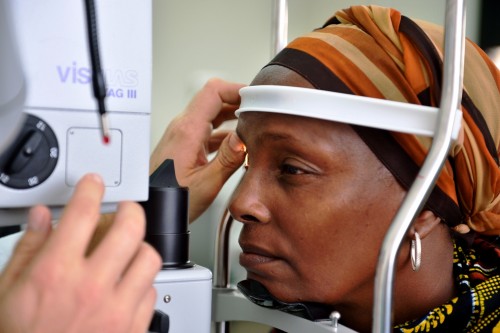 Dr Kenneth Madu, an Abuja based optician, has advised Nigerians to go for regular eye screening to prevent glaucoma.
Madu gave the advice on Tuesday in Abuja.
He said that glaucoma is an eye condition that develops when too much fluid pressure builds up inside the eye.
"Eye screening is very important for early detection of glaucoma.
"This is important because there is no treatment for the disease, but if detected early, it can be managed," he added.
According to Madu, study has shown that over 16 per cent of people above the age of 39 have glaucoma.
He explained that increased fluid pressure, which is also called intraocular pressure, could damage the optic nerve which transmits images to the brain, thereby affecting the pictures we see.
"Vision lost from glaucoma cannot be reserved," he said.
The consultant said that glaucoma usually occurs in both eyes, but it might involve each eye to a different extent.
Stressing that glaucoma does not show early symptoms or pain from increased fluid pressure in the eyes, Madu explained that prevention was important through regular screening.
He said that the condition could be diagnosed and managed before long-term visual loss.
According to Madu, there are two normal ranges for intraocular pressure: 13 to 18mm and 14 to 21mm.
"If screening reads beyond the normal range, medication can be administered to manage condition.''
He said that symptoms such as redness, itching and pain are common in other eye diseases.
"But in glaucoma, you wake up one morning and can't see anymore," he said, adding that glaucoma could be inherited in the family, caused from advance in age or birth defect in children.
He stressed the need for annual vision screening for children and teenagers in elementary schools while older people from ages 39 should go for screening three to four times annually.

Load more