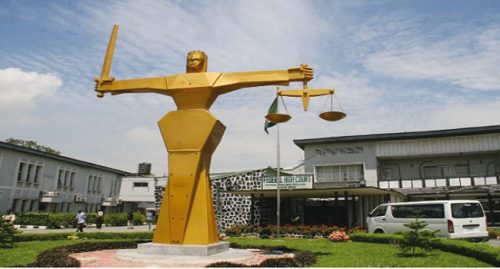 Justice Halilu Yusuf of FCT High Court, Jabi, on Tuesday warned lawyers against engaging in sharp practices capable of tarnishing the image of the legal profession.
The judge, who spoke in the open court, noted that some lawyers had started violating the ethics of the legal profession in order to get quick money.
"We have instances where lawyers from the same chamber represent the plaintiff and the defendant.
"We also have instances where a single lawyer will announce appearance for both the plaintiff and also for the defendant.
"Such practice is capable of tarnishing the image of this profession, there must be synergy between the bench and the bar'', Yusuf said.
He also stressed the need for respect for the rule of law.
Yusuf also called on lawyers to be wary of the kind of brief they take from their clients, adding that some briefs are capable of rubbishing the profession and the image of lawyer.
He also complained on how some lawyers dress, adding that some lawyers dress shabbily.
On the part of defendants, the judge said that a defendant doesn't have the right to decide when he or she is to come to court, especially when such a person is facing trial.
He said that an accused is bound to attend trial when such person is facing trial in the law court.
Yusuf was reacting to the absence of a defendant who was granted bail in a criminal matter, but was not in court when the case was called up.

Load more