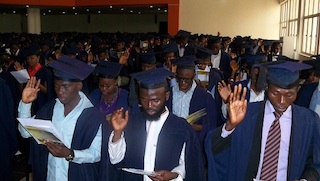 Gov. Oluwarotimi Akeredolu of Ondo State on Thursday called for vocational centres to enhance self reliance of youths after graduation.
Akeredolu made the call when the National Association of Ondo State Students (NAOSS), visited him in Akure.
Represented by his deputy, Agboola Ajayi, Akeredolu said youths no longer focused on white collar jobs after leaving the university, hence the need of the vocational centres.
The governor said his administration would not impose or dictate a national president for NAOSS as it holds election soon.
"We will provide a level playing field for all contestants but we will also not tolerate violence in any way.
"The primary objective of any government is to protect lives and property; that we won't compromise", he said.
READ: Gov. woos investors to state
Mr Adeolu Iwakun, National President, NAOSS, commended the administration for prompt payment of salaries.
He listed the payment of the outstanding 2013 to 2017 bursaries as part of the demands of the association.
"We are owed 2013/2014 bursaries where N50 million was paid after pronouncement of N350 million to be released for this.
"We want this government to introduce post-graduate scholarship as we all know that the value of first degree is fast diminishing in Nigeria.
"The government cannot employ everyone and we have skilled graduates who are willing to display the skills but no opportunity, hence the need for vocational centres which will also reduce the rate of unemployment", he said.

Load more