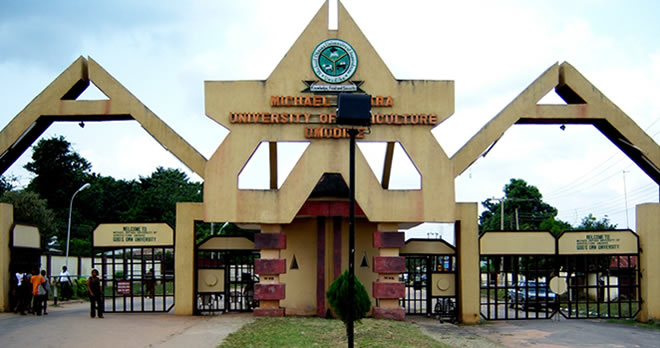 The Michael Okpara University of Agriculture, Umudike in Abia, on Wednesday disengaged no fewer than 460 temporary workers, whose appointment had reportedly lapsed in February.
The workers were recruited toward the end of the administration of former Vice-Chancellor, Prof. Hillary Edeoga, who left office in March 2016.
According to a circular issued by the university, the temporary appointment, with one-year validity, had lapsed.
The circular, dated April 28, and signed by Registrar of the University, Dr Azubuike Nwaokocha, directed the affected workers to "reapply for renewal of their appointments" through their Heads of Department (HOD).
The circular, which was made available to newsmen in Umuahia, requested the HODs to give "cogent reasons" why the applicants' temporary appointments should be renewed.
Speaking further on the development, the Public Relations Officer of the University, Mrs Adanma Odefa, dispelled the speculation that the VC, Prof. Francis Otunta, was under pressure to lay off workers engaged at the end of Edeoga's administration.
"Prof. Otuntais was just following the procedure of doing things according to the rules of the university.
"The affected workers were hired illegally by the past administration.
There was a bit of mess that needed to be sorted out. It did not just start with this administration.
"The last administration hired no fewer than 460 people without following due process," she said.
Odefa said that the terms of the appointment showed that their appointments lapsed automatically after one year, if it is not renewed.
"The appointment of the workers in question lapsed in February, technically speaking, they are no longer staff members of the university," she explained.
Meanwhile, the development has generated tension and panic among the affected workers, who pleaded with the university to reverse the measure and regularise their appointments.
Some of them said on the condition of anonymity that the measure was a calculated attempt by the VC to create an opportunity to recruit his people.

Load more