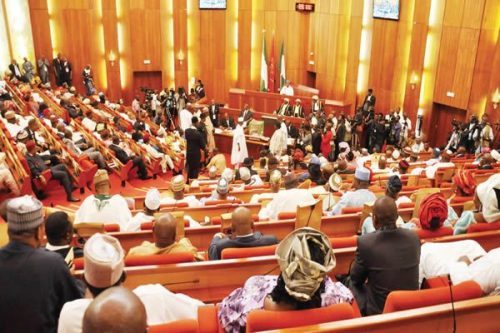 The President of the Senate, Dr Bukola Saraki, on Wednesday, reaffirmed Senate's commitment toward upholding the rights of the media.
Saraki gave the assurance while briefing newsmen on the event of World Press Freedom Day in Abuja.
"As we all know, today is World Press Freedom Day, a day that gives all of us, both members and non-members of the press, an opportunity to reflect and reaffirm our commitment to upholding the rights of the media.
"This is because, time and time again, as demonstrated throughout history, the power of the pen has been proven to be more potent than the power of the sword.
"The stories that you tell, the articles that you write, the videos that you edit and release on your various platforms, have the power to shape public perception," he said.
According to him, the media, especially here in Nigeria, have played a crucial role as the watchdog at various points of our momentous history.
Saraki said that the media must evolve beyond carrying ordinary propaganda and sensational news to sell newspapers and increase viewership to pushing out truthful, verifiable and pertinent information to the public.
"All of you here have the power to shape all that happens here, by pushing relevant issues, not stories of who is insulting who or what Senator A said about Senator B.
"You have the opportunity to define the discourse in the public arena, and by so doing, positively define our agenda.
"I urge you all to look beyond the propaganda that is being sponsored to put down the Senate and judge us based on facts and figures about our genuine performance.
"These facts and figures are readily available, therefore, judge us by our actions. You participate indirectly in our daily plenary, committee and oversight sessions.
"You are a constant feature around here. So, please let the public know and understand that this Senate is working for them, and it is people-centred.
"This is why we continue to pass motion after motion to call attention to critical national issues.
"We have passed critical laws that will make a positive impact on the standard of living and rate of development in our country," he said.
This year's theme for Press Freedom Day is "Media's Role in Advancing a Peaceful, Just and Inclusive Society''.

Load more