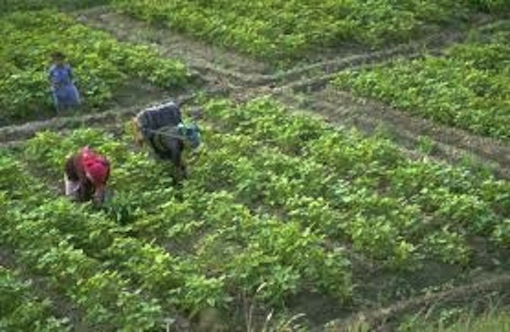 The Central Bank of Nigeria said that farmers have commenced the repayment of the N33.4 billion loan given to them under the Anchor Borrowers Programme.
In a statement on Wednesday, the Acting Director of Communications, CBN, Mr Isaac Okorafor said the loan was initially released through 12 Participating Finance Institutions in respect of 146,557 farmers across  21 states cultivating over 180,018 hectares of land.
"Contrary to insinuations about the unwillingness of farmers to pay up their loans, farmers who accessed these, under the Anchor Borrowers' Programme (ABP) have indeed commenced repaying their loans.
"Out of the N33.34 billion released, about N15.137 billion was disbursed to 73,941 Kebbi State farmers  which have fallen due for repayment with N7.119 billion representing 47 per cent, repaid and returned to CBN.
"Meanwhile, the balance of N18.203 billion of the 12 months tenured loans released to farmers in the other 20 states for wet and dry seasons have not fallen due for repayment.
"However, farmers in other benefiting states have also commenced the repayment to the tune of N1.238 billion which is already with the CBN," he said.
Okorafor said that efforts were currently being made by the participating state governments to ensure that all outstanding loans were repaid by the farmers before commencement of the next dry season cultivation.
He said this was to enable the CBN extend similar gestures to farmers in other states which have indicated interest in participating in the Anchor Borrowers Programme.
Okorafor said that six commodities namely, rice, wheat, maize, soya beans, cotton and fish had been cultivated by the farmers with appreciable yields achieved.
He said Kebbi state alone accounted for about two million metric tons of rice out of estimated four million metric tons so far realized under programme alone nationwide.
READ: Edo government orders NDDC contractors to stop work
It will be recalled that President Muhammadu Buhari had on Tuesday, November 17, 2015 launched the CBN Anchor Borrowers' Programme in Kebbi State.
The flag-off of the ABP programme had since been replicated in 20 States, including Adamawa, Cross River, Ebonyi, Jigawa, Kaduna, Kano, Katsina, Lagos, Niger, Ogun, Plateau, Sokoto and Zamfara for rice and wheat farmers.
The ABP is aimed at advancing the status of small holders to commercial farmers, thereby stimulating the needed capacity to meet the nation's increasing food needs, create jobs and lifting thousands of small holder farmers out of poverty.
In recent times, the CBN has come under fire for embarking on the programme with some insinuating that the monies won't be repayed just like other intervention funds given out by the apex bank.

Load more