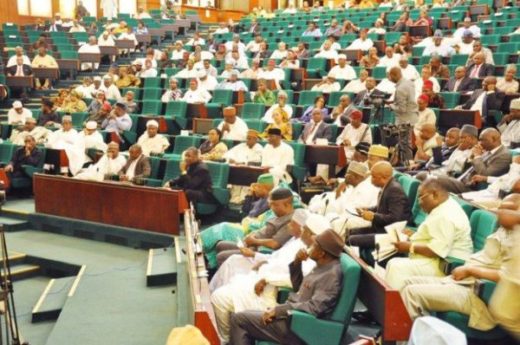 A Bill for a law to provide N100, 000 fine for people who distort the country's national flag passed second reading at the House of Representatives on Thursday.
Sponsor of the bill, Rep. Sam Onuigbo (Abia-PDP), in the debate, said the bill sought to amend Flag and Coat of Arms Act 2004 and would make further provisions to preserve the country's national heritage.
He said there had been surreptitious effort to change the national flag as many public and private offices constructed the Coat-of Arms on it.
Onuigbo said that the offices even included official photographs of governors, ministers, and even national assembly members in the designs.
According to him, it is important to declare that any addition, subtraction or superimposition outside the version designed by Pa Michael Akinkunmi in 1959 is not the Nigerian flag.
He explained that the bill aimed to amend Section 7 of the principal Act by inserting new paragraphs to provide for stiffer penalties for offenders.
According to the lawmaker, Section 10 of the principal Act is amended by removing the fine of N100 and replacing same with the sum of N100, 000.
''Also any person who flies or exhibits the national flag which is deconstructed, thereby creating an impression of using the national flag, where actually the flag is deconstructed shall be guilty of an offence against the Act.
''Similarly, any person who uses the national coat and inserts same into the national flag thereby creating an illegal form of our national flag shall be guilty of an offence against this act,'' Onuigbo said.
READ: Senate postpones presentation of 2017 budget report
In his contribution, Rep. Nicholas Ossai (Delta-PDP), condemned the violation of the Act on the national flag by government and corporate organisations.
Ossai, who described the distortion of the flag as disrespect for the nation, said that violating the Act was an infringement on what the national flag set to achieve.
Also, Rep. Kingsley Chinda (Rivers-PDP) said that there was need to raise the consciousness toward protecting the country's national pride.
He advocated stiffer penalty for offenders, saying "it is criminal and the offenders should be adequately punished''.

Load more