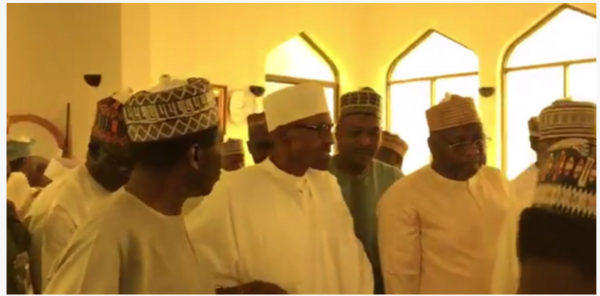 Nigeria's President, Muhammadu Buhari on Friday joined Muslim faithful to observe the Juma'at prayers inside a mosque located inside the Presidential Villa, Abuja.
Buhari was joined for the two-rakat prayers by top government officials, including the Minister of the Federal Capital Territory, Muhammed Bello; and the Attorney-General of the Federation, Abubakar Malami.
There have been uproar over the president's ill-health which the presidency claimed was not as serious as being painted in the public by the media.
Buhari has now missed three Federal Executive Council, FEC, meetings, an act that brew tension in the land and raised further concern over the president's fitness.
Many Nigerians have been agitating that the president should declare the nature of his illness.
Last week, Nobel laureate, Prof. Wole Soyinka called on Buhari to tell Nigerians the nature of his sickness as he is a public property.

Load more