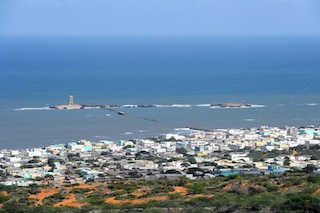 A retired university lecturer, Dr Bassey Okwong, has urged the Federal Government to install a water quality network device in coastal areas to detect rise in sea water level.
Okwong gave the advice in an interview with News Agency of Nigeria (NAN) in Abuja on Friday.
"Nigeria needs a harmonised, comprehensive water quality monitoring networking device across all the major rivers to provide the necessary information for water managers to take proactive decisions toward effective flood control.
"The monitoring network will provide the capability to observe, analyse and forecast natural and human-induced changes that affect waters from inland out to the estuaries and coasts.
"More than any other measures, monitoring network programme provides information necessary for management actions by the relevant agencies like Nigeria Hydrological Service Agency (NIHSA) to monitor flooding at the coastal areas,'' he said.
He said that the device would be handy in detecting changes in sea water levels overtime with a view to protecting the lives and property of the residents of coastal regions.
Okwong, who taught at the Department of Geology, University of Calabar, said that such initiative would serve as a proactive means of avoiding water encroachment that could lead to flooding.
He said that the network mechanism would provide information about oceans and coastal ecosystems as well as inland influences on coastal waters for improved water resource management.
He noted that increase in the water levels of major rivers had contributed tremendously to flooding, a challenge which had been facing the country since 2012.
According to him, early information on flood forecasting, prediction and early warning signals will go a long way to mitigate such environmental hazards.
Okwong urged the government to initiate effective water-monitoring programmes, together with sound data and information management, in the coastal and riverside areas.
He said that the recurring problem of flooding in the country had necessitated appropriate actions, including early preparation and adoption of modern methods, to tackle the menace.
READ: NYSC/NGO donate wheelchairs to physically challenged
Okwong urged NIHSA to collaborate with other federal agencies to provide early information to trigger adequate monitoring of coastal areas the upland regions.
He, however, urged the government to provide equipment to monitor major rivers across the country to supply information that would be beneficial to fishermen, scientists, water providers and other users of water resources.
He said that the device should be positioned in strategic locations to facilitate the initiation and execution of measures that would curtail or minimise the effects of floods and coastal degradation in the country.
"Coastal erosion and degradation has been affecting the entire coastline, with greater occurrence around major coastal cities across the country, for several years now.''
"We cannot, as a country with experienced water managers, fold our hands to look at such situations that could be controlled if adequate measures are taken,'' he added.

Load more