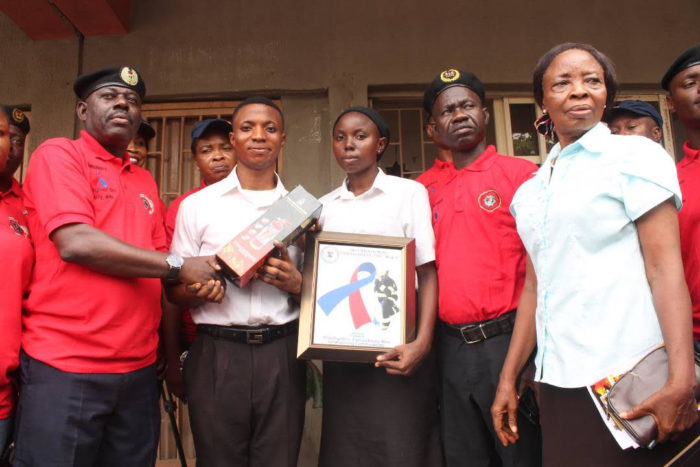 The Lagos State Fire Service on Thursday solicited the support and corporation of every individual or group of persons in minimizing the vulnerability to fire incidents and promotion of swift service delivery, so as to prevent unwanted destruction of lives and property.
This call was made by the State Director of Fire Service, Mr. Rasak Fadipe during the commemoration of the 2017 fire fighters day celebration held at the state capital.
The event which was themed: "Fire Fighters: Extraordinary Men, Unwavering Commitments."
According to the fire boss, the commemoration was to admonish the dedication, readiness and commitment of the officials in response to distress calls at all times and further exhibit the efforts of government to promote a safety culture and imbibe the values of collective responsibility against the one man-show syndrome of the past.
"The directorate in the last two years has restrategised and adopted a holistic approach to fire safety campaign by reaching out and engaging the youth in the enlightenment safety campaign, so as to encourage positive attitudinal behaviour and create community networks, increase youth involvement; expend their knowledge of potential threats and ensuring that they know how to report appropriately to the authorities and also educate their families and neighbors to be safety conscious," he said.
This move, according to Fadipe, was yielding positive result, while government is also matching words with action by formulating and implementing safety oriented policies and programmes
"To meet the growing population of the state and enhance accessibility and proximity of the grassroots to fire facilities, additional four new fire stations were established and strategically located across the state to serve the needs of the residence.
"Presently, the State can boost of 15 functional Fire Stations across the State and all are readily equipped with the state of the art modern fire fighting equipment as well as continuous human capacity training exercise to prepare the officials for incidence management and all other related crisis associated with mega city status of Lagos State" Fadipe explained.
According to Fadipe, "in combating fire, members of public also have roles to play such as instant call to Fire Service during fire or other related emergencies, giving right of ways to fire engine, sharing necessary or helpful information to the officials, clearing off condoned incident scenes as well as rendering necessary assistance."
He, thereby, appealed to the public to desist from damaging government facilities as lots of tax payers' money were expended in providing the amenities for the safety use Lagosians and also explained the negative consequences of unwarranted but coordinated attacks on firemen as an indirect denial of other people.

Load more