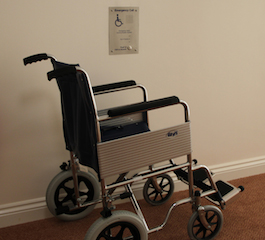 The National Youths Service Corps (NYSC) and an NGO, Grace Projects International (GPI), have donated wheelchairs to three physically challenged persons in Zamfara.
The state coordinator of NYSC, Hajiya Rahmatu Sanda, made the presentation to the beneficiaries at the NYSC office in Gusau Local Government secretariat on Friday.
She said the gesture was to support: Abdullahi Muhammad, Muhammad Tukur and Muhammad Biisallah from Gusau, Kaura Namoda and Talata-Mafara Local Government Areas considering their natural disability.
Sanda said that the NYSC and Grace Projects International partnered to provide humanitarian services, especially, for those with special disabilities and those that required emergency assistance.
"I urge the beneficiaries to utilise the wheelchairs given to them judiciously.
"The NYSC is ever ready to partner any organization to assist people with special needs and for national development.
"I want to appeal to other organizations and well-meaning individuals to emulate the NYSC and come up with various projects to support humanity,'' she said.
Sanda during the presentation advised the 2016, Batch A Stream 2 Corps members, who concluded their national service on Thursday to embrace various entrepreneurship businesses they learnt at the orientation camp.
"I am using this opportunity to call on our ex-corps members to embrace entrepreneurship businesses for them to become self-reliant.
"I am calling on them as soon as they return home, they should start small businesses.
READ: IFC partners Lagos on City Initiatives
"I always tell them that they should not rely on government job. We all know the employment situation we are facing in this country.
"Therefore, they should do something to create jobs,'' she said.
According to her, 19 out of the 1, 247 that recently passed out will  repeat the service year for absconding while the service year of three other corps members was extended over indiscipline.
"We recorded six corps members who excelled during the service year in their places of primary and community development services.
"We have one outstanding honor-award winner, we have two merit-award winners and three corps members who received letters of commendation,'' she said.

Load more