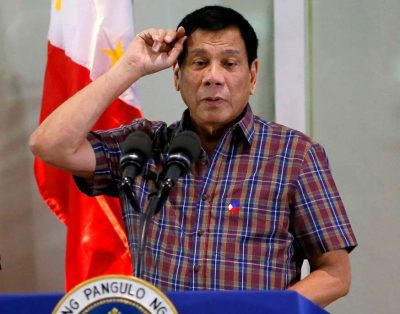 The Philippines on Friday expressed disappointment that a UN envoy on extra-judicial killings visited the country without notifying the government.
Agnes Callamard, a UN special rapporteur on extrajudicial killings, gave a speech at a policy forum at a Manila university adding that she was not in the country in an official capacity.
She has previously criticized the war on drugs by the administration of President Rodrigo Duterte, which has left thousands dead in police operations and alleged extra-judicial killings.
Presidential spokesman Ernesto Abella said that Callamard had not replied to an official invitation to visit from the Duterte administration.
"This showed that she would not be approaching her review of allegations concerning our country objectively or comprehensively.
"We are disappointed that, in not contacting our government in advance of this visit, she has sent a clear signal that she is not interested in getting an objective perspective.
"The circumstance of the visit also "circumvents all recognised UN protocols for such visits, this is a matter we have asked our representatives at the UN to take up with their UN counterparts.
"It is something our delegation in Geneva will certainly be raising during their current visit," Ernesto Abella said.
Since Duterte came into office in June 2016, over 7,000 suspected drug users and dealers have been killed, according to New York-based Human Rights Watch.
However the police have disputed this figure, saying "the number was inaccurate.''

Load more