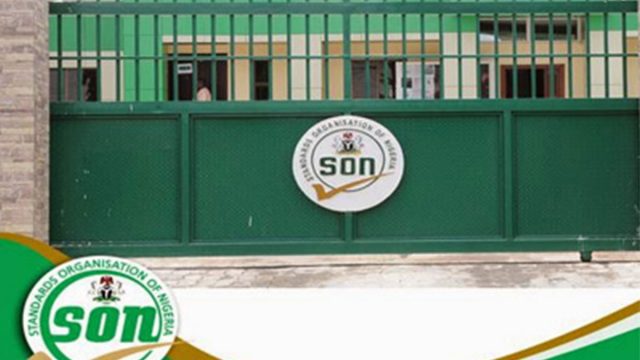 The Standards Organisation of Nigeria (SON) on Thursday urged cassava farmers' organisations in Niger to adhere to international best practices during cultivation and processing of the crop for marketing.
Mr Bayo Olufade, the SON Coordinator in Niger, made the call in Minna during the 2017 Value Chain Development Programme (VCDP) commodity alliance forum for cassava farmers' organisations and off-takers (marketers).
Olufade, who was represented by Mrs Christiana Musa, SON's Principal Technical Officer, said that the measure would bring about the acceptance of cassava tubers and processed products from Nigeria at the international market.
"Many of the farm produce from Nigeria were rejected at the international market recently for falling short of international standards,'' he said.
The coordinator advised farmers to always consult SON in their efforts to conform to international best practices in crop cultivation, processing and marketing.
"If you take your produce abroad, it will be checked before consumption or processing. If it is bellow standards, it will be destroyed and you will lose your money,'' he said.
Similarly, Mr John Nkom, the Branch Manager, Nigeria Agricultural Insurance Corporation (NAIC) in Niger, said that before any farmland could be insured, the corporation had to carry out inspection and feasibility studies on it.
Nkom, who was represented by an Administrative Officer, Mr Sani Ali, advised farmers to ensure that their farms were insured against destruction of farmlands and crops.
Also speaking, Mr Boma Anga, Chairman, Cassava Agro Industries Services Limited, Abuja, an off-taker, disclosed that the standard of cassava, which was acceptable at the international market, was 12 per cent moist condition.
READ: Govt. to build clinics, crèches in markets
He said that there were over 1,000 uses of cassava across the globe, adding that pricing of the cassava produced by local farmers had been a challenge to the VCDP.
Also, Mr Isiak Yusuf, Chairman, Cassava Growers Union, Kontagora Local Government Area, who spoke on behalf of the farmers, said that they would only sell the tubers to marketers at prevailing market prices after harvests.
News Agency of Nigeria reports that the current market price of a tonne of fresh tuber is N65, 000, while the prevailing market price of one tonne of cassava chips stands at N180, 000.
NAN recalls that Mr Jacob Olorunyomi, the VCDP consultant who once verified the business plans of farmer groups in the state, said that there were 255 farmer organisations in the state with 5,238 members.
Olorunyomi said that the farmers, comprising 4,212 males and 1,026 females, would cultivate rice and cassava on 4, 991 hectares of land in this cropping season.

Load more