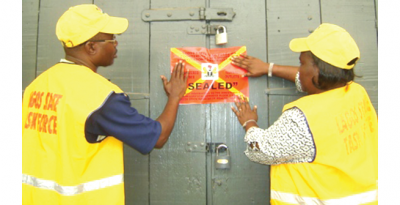 The Federal Inland Revenue Service (FIRS) has sealed two companies in Lagos over sundry tax liabilities.
The exercise, executed by FIRS enforcement unit, saw the shutting of Tracit Ventures Ltd, located at 5B Cappa, Palmgrove Estate, in Ilupeju area of Lagos.
The FIRS said the company's tax default between 2009 and 2014 totaled N21,042,946.39. This comprises Company Income Tax, Witholding Tax, Value Added Tax and Education Tax.
Similarly, the enforcement team sealed Satek Nigeria Limited, located at 8/10 Ilupeju Bye Pass, also in Lagos.
The government's foremost tax-collecting agency said the company failed to pay to the government its Company Income Tax, Value Added Tax and Education tax, amounting N24, 794, 394.
—

Load more