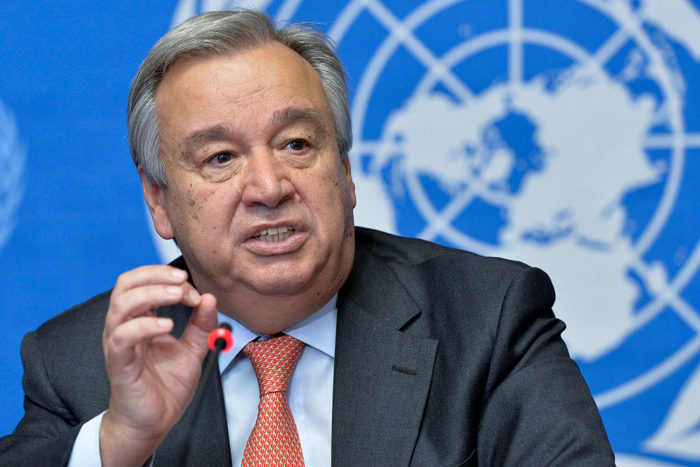 UN Secretary-General, António Guterres, said on Friday that he has written to the Member States to update them on various reform initiatives at the global body.
Guterres said through a number of global agreements on sustainable development, climate change, sustaining peace and financing for development, Member States have provided a broad vision of the future they want.
The Secretary-General said he intended to advance meaningful reform to adapt the UN to the complex world and to ensure that the organisation could effectively serve all of its member states in achieving that future.
"The letter provides a timeline of progress on a number of reform issues, including gender parity, the reform of the development system, and the reform of the peace and security architecture.
"Others are the management of the Organisation, the new Counter terrorism office, whistle-blower protection, combatting sexual exploitation and abuse, among others."
Nigeria's Ambassador to the UN, Prof. Tijjani Bande, had after presenting his credentials to the UN chief on Wednesday, said Nigeria was taking its rightful position in a reformed UN as Guterres pursued the organisation's reform.
"There are questions concerning UN reform. These are important issues that are being discussed for decades and there is a new push that this should be done equitably.
"Nigeria has offered itself to serve in any capacity relating to that new reform of the UN Security Council," Bande had said.
The Secretary-General said he had established an Internal Review Team on peace and security in January and one on management reform in April.
The UN chief, who made "reforming the UN" one of his agenda in office, said that he had also shared his vision for prevention with the Member States.
According to him, prevention means helping countries avert the outbreak of crises that take a high toll on humanity, undermining institutions and capacities to achieve peace and development.
"We cannot meet the prevention challenge with the status quo.
"The United Nations needs to be much more united in its thinking and in its action, putting people at the centre.
"In short, prevention needs to permeate everything the United Nations does," Guterres said.
Throughout the reform process, the Secretary-General said he is committed to extensive consultations with Member States, starting with brainstorming sessions on management reform this May.

Load more