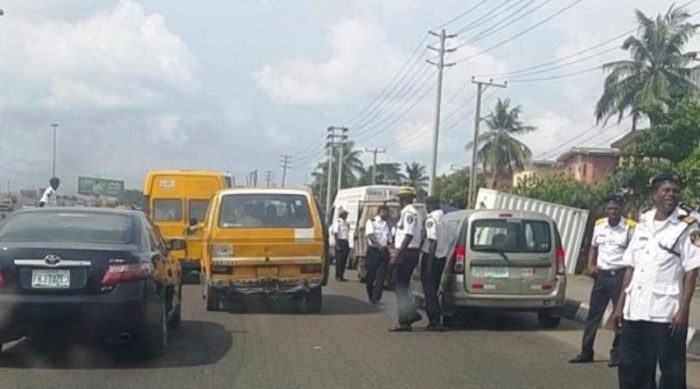 By Kazeem Ugbodaga
Lagos State Governor, Akinwunmi Ambode has ordered the state's Vehicle Inspection Officers, VIOs out of Lagos roads with immediate effect.
PM News gathered that since last week, the VIOs, under the Vehicle Inspection Service, VIS, had left all Lagos roads on the order of Ambode.
Government sources said the governor ordered the VIOs out of the road for retraining as a result of public complaints and in a bid to reposition the outfit.
A source told PM News that the story carried by a national daily recently which alleged that the VIOs burnt the vehicle of a motorist arrested had not gone down well with the governor who would not tolerate unruliness in his administration.
Asides this, some complaints about supposed high-handedness and over-zealousness of some VIOs were other reasons the governor ordered them out of Lagos roads until further instruction.
A VIO source told our reporter that the officers had been ordered by the governor to go on compulsory retraining on the use of modern technology in order to be humane in dealing with the public.
It was gathered that the no training had been arranged since the officers left the road last week as they were still watching and waiting for the next action to be taken by the state government on the matter.
A top government source who does not want his name mentioned said the order by the governor for VIOs to vacate Lagos road was unconnected with the alleged report of assaulting a motorist and burning the vehicle.
A VIO source alleged that the driver lied against the officers as the agency could not have carried out such debilitating action.
A source added that the Ministry of Transportation was working frantically to arrange training for VIOs so that they could get back on the road soonest, but that for now, they would be off the road on the order of the governor.
The state Commissioner for Information and Strategy, Steve Ayorinde, in his reaction said: "The truth is the transport ministry is undergoing restructuring, including the VIO. The commissioner for transportation had made some recommendations, which he will present at the State Executive Council meeting and things can move forward from there.
"But we all believed that the VIO activities should be technologically driven." 
Save

Load more