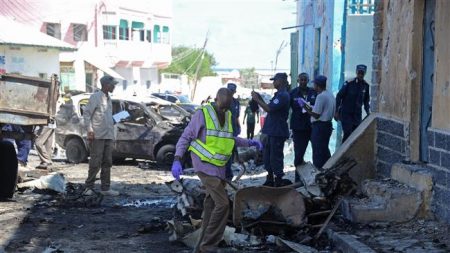 A loud explosion followed by gunfire was heard in Somalia's capital Mogadishu on Monday and huge clouds of smoke could be seen, a Reuters witness said.
The witness said the cause of the blast was not immediately clear.
On April 5, police say a car bomb rammed into a cafe in Mogadishu, the Somali capital, near the compounds housing the security and sports ministries, killing three.
"A suicide car bomb hit a small restaurant near the sports and youth ministry. So far we have confirmed three civilians died," Nur Aden, a police officer, told Reuters.
The cause of the blast was still unclear, he said.
In the past, al Qaeda-linked al Shabaab militants have taken responsibility for blasts and gun attacks in the capital and elsewhere in Somalia.
On March 13, a large explosion hit Mogadishu, killing six people.

Load more