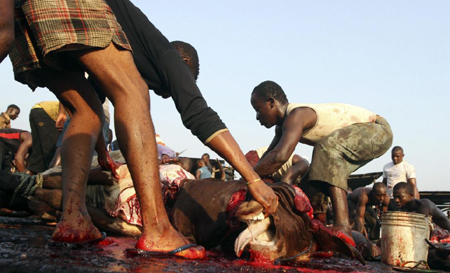 The General Manager, Ashanti Barracks Modern Abattoir Operators, Apapa, Mr Aminu Gwadabe, said on Monday that private investors had spent over N80 million in constructing modern abattoir at the Barracks Mami Market.
Gwadabe gave the figure in Lagos.
According to him, the modern market became necessary to boost processing of meat for local consumption and export in a clean environment.
"Meat processing can be a major source of foreign exchange earner for Nigeria.
"It has been estimated that Nigeria has over 29 million cows, yet the country is clearly missing in the global beef ranking.
"We want to key into the Federal Government's agenda for the diversification of the nation's economy from oil.
"Those who have invested in this modern abattoir want to boost this aspect of agriculture and ensure it brings in the desired foreign exchange for the nation," he said.
Gwadabe said that the abattoir would operate with the latest technology in meat production.
According to him, the cold room facilities will be built at the abattoir to ensure that unsold beef remain fresh and safe for consumption.
The general manager said that all the bi-products of the cow, from offal to animal skin would be processed for export and local consumption.
Gwadabe noted that there was plan to use the animal dung in future to generate gas to refill the gas cylinders at the offal processing units.
He said the operators were also planning to generate electricity from the dung to power all the facilities within and around the barracks.
The general manager said the animal blood would be processed to get animal feeds.
Retired Maj.-Gen. Sule Saheed, Chairman, Ashanti Barracks Modern Abattoir Operators, said that the butchers had done well to have a befitting abattoir in Lagos.
He said that as the chairman, he would ensure that the facility continued to improve and expand on its performance to conform to international best practices in beef production.
NAN reports that the abattoir was inaugurated on Friday in Lagos by the outgoing Ashanti Barracks Commandant, S &T Units, Brig.-Gen. Erema Akereloja.

Load more