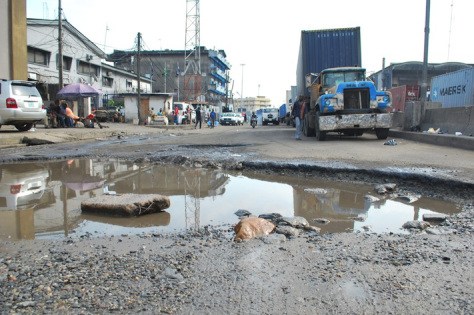 The Nigerian Shippers' Council (NSC) has called on the Federal Government to urgently repair the deplorable port access roads before the rainy season sets in.
Mr Cajetan Agu, Deputy Director, Commercial Shipping Department of the council, made the plea on Sunday in Lagos.
Agu said that the roads were bad and caused a lot of heavy traffic gridlock and damaged goods when trailers fell while dodging potholes.
"It takes three days to clear cargo from Lome, seven days in Cotonou, four days in Durban in South Africa and five days to clear cargo out of Kenyan ports.
"The free days given to importers before accumulating demurrage in Nigeria is five days while it is 10 days in Benin Republic.
"It takes 10 days in Cameroon and China to enjoy free period before the accumulation of demurrage starts to count,'' Agu said.
According to him, terminal handling charges in Nigeria is about N62,000 while in Cotonou and Ghana, it is N24,000 and N9,653 respectively.
The director added that Ghana had suspended terminal handling charges.
Agu said that what importers needed from the port were the availability of service and common users' information, safety of cargo and right pricing.
He said that the council had recommended that the federal government should strengthen the regulatory framework in Nigerian ports.
The director also spoke on the need for government agencies to collaborate towards ensuring port efficiency at reduced costs.
"There is also the need for ports to be fully automated with the establishment of a single window platform," he said.
Agu noted that the platform had the capability for reducing the cargo dwell time from 40 days to 10 days.

Load more