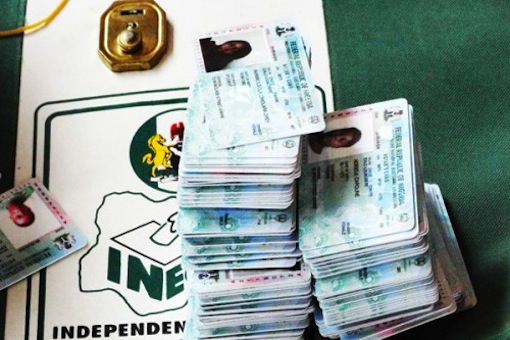 The National Youth Council of Nigeria (NYCN) has called on the Independent National Electoral Commission (INEC), political parties and Civil Society Organisations (CSOs) to assist in deepening robust sensitisation for registration of Permanent Voter Cards (PVCs).
The Deputy Director, Directorate of Political and Democratic Matters of NYCN, Mr Obinna Nwaka, made the call at a news conference in Abuja on Tuesday.
Nwaka said that the call became necessary given the poor awareness and aparthy of many Nigerians since the exercise began.
This, he attributed to lack of proper awareness of Nigerians on the exercise.
Nwaka said NYCN had perfected plans to embark on nationwide sensitisation of Nigerians on the need to embrace the registration.
He said it was important for INEC and other pressure groups in the country to embark on massive sensitisation of the people, given the importance of PVCs in the nation's electioneering system.
Nwaka said that PVC remained the weapon, strength of the voters during elections, hence the need to register all eligible voters before the 2019 general elections.
He said it was the responsibility of INEC to ensure that the registration and collections of PVCs by qualified Nigerians was done in good time.
"INEC as a body should increase the awareness on the registration process with the good information on deadline to motivate the citizenry,'' said the deputy director.
Nwaka said it was necessary that INEC and other stakeholders intensify effort to mobilise people to participate in the exercise especially Nigerians in internally displaced camps, North East states and Southern Kaduna.
Nwaka, who commended INEC for their courage in commencing the PVC registration, said it was also germane to make the registration a continuous process, given the large number of people yet to be registered.
He said that the NYCN was grateful to the Federal Government for increasing the budget of the Amnesty Programme from N20 billion to N55 billion in 2017.
READ: Union commends FGs on sale of locally made textiles
The NYCN official said that it was cheery to hear the release of the 82 Chibok school girls, but urged government to intensify effort on the release of the remaining girls.
He also called on Nigerians to come out en mass for the registration, given the importance of the PVC in the electoral process.
The News Agency of Nigeria (NAN) reports that INEC had begun the continuous voter registration ahead of the 2019 general election.
The elections slated for 2019 would give the electorate the opportunity to elect the candidates of their choice for the presidential, states, legislative and council elections.
The NYCN is the apex body and mouth piece of Nigerian youths.
The council, which has 18 directorates, has Murtala Garba as its current President.

Load more