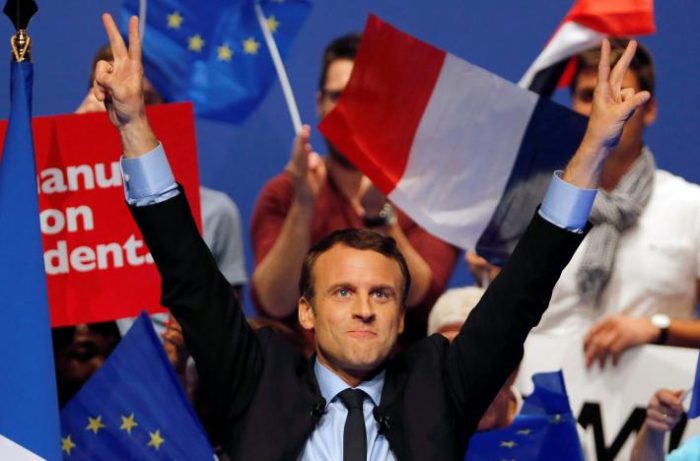 A cross-section of Federal Capital Territory (FCT) residents have reacted to Sunday's victory of Emmanuel Macron in France's Presidential election, saying it was a challenge to youths in Nigeria.
Macron, 39, won the election as an independent candidate. He defeated his favoured female opponent, Marine Le Pen, of French National Front.
In separate interviews with the News Agency of Nigeria (NAN) in Abuja on Tuesday, the residents said Macron's victory was wake-up call on Nigeria's and Africa's youths.
They said that the youths in the continent must take up leadership roles.
Mr Taiwo Adepoju, an entrepreneur, said Macron's victory signalled victory for Africa and indeed, the youth.
Adepoju, who is the founder of Phenomenal African Women Foundation, said it was a victory for everyone as it demonstrated that nothing was impossible.
"It signals a new wave which speaks to Africa, particularly concerning ageing leaders' sit-tight mentality.
"It portends a positive reference as the reality of having a youth as a president is palpable for the African youth.
"It is a clarion call that the issues of governance should be aptly driven by intentionality and deliberateness of purpose and clear focus.
"The African youth should up their game; we must move from frivolities into matters that bother on sustainable development and growth," he said.
Mr Ben Ekiye, a politician, said that Macron's election had further proved that the youths could participate and hold important governance positions.
"For Nigeria, it is a wake-up call both to the youth and the elderly. For the old people, it is a warning that the youths are taking over.
"For the youth, it is a challenge to rise above mediocrity, greed and indolence and face the realities ahead.
"It is time to begin to attain leadership positions in Nigeria and do the needful for our country. Now is the time for the youths to be responsible; we can do it."
Another politician, Mr Chibuzor Ugochukwu, told NAN that Macron's victory should spur Nigerian youths to be actively involved in politics.
READ: Emmanuel Macron Did Not Emerge By Accident
He said: "the message from Macrons's victory shows that we the youths of this country can hold the highest political seat.
"How do we go about doing this? The youths should get more involved in politics, join a credible political party and be actively involved and then vie for political office.
"Also, they should get involved with community projects; in your little way, help your community. Macron did not just emerge president overnight, he started from somewhere and we the Nigerian youths can do it, too.''
Mr Tejiri Innocent, a Marketing Communications expert, said he was happy seeing a young person take over the reins of leadership of one of world's leading countries.
Innocent, however, said what was more important was a youth's ability to be a leader.
"For me, it is great to see a young and fit person take on what is the herculean task of leading a nation.''

Load more