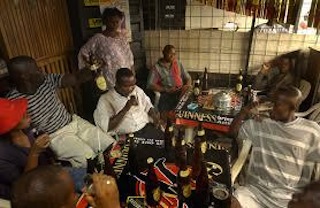 Mr Charles Odibo, the Chief Executive Officer of Tomachy, an online platform says the platform will boost restaurants, bars and night life businesses in the country.
Odibo in a statement in Lagos on Tuesday said that with the debut of Tomachy, Nigeria had joined the league of countries where online search for best places to wine and dine had been made easier.
He said that Tomachy, a restaurant search and discovery web platform incorporating mobile app, currently had information for over 20,000 restaurants, bars, and night clubs across 36 states and Abuja.
According to him, Tomachy will be used by consumers across the country to discover rates and review restaurants as well as create personal network of foodies for trusted recommendations.
"Tomachy is established to ensure that we make finding local restaurants as easy as possible, and we shall intently focus on driving restaurant transactions.
"In addition to restaurant search and discovery, Tomachy will expand its services to include online ordering and table reservations.
"This will create additional offerings to connect restaurant businesses and customers in ways that will revolutionise the restaurant industry in the country.
"Tomachy shall also roll out end-to-end technology for a comprehensive enterprise management system for restaurants, small local spots or exclusive fine dining restaurants.
"The technology is a tool that will enable them drive their businesses to greater success by capturing new customers regularly, and ensuring that regulars keep coming back," he said.
Odibo said that Tomachy's features include photos and scanned menus, which would enable customers make reviewed decision-making process about where to eat.
He said that reviews and ratings on Tomachy would be provided by users.
According to him, Tomachy expects a huge following because Nigeria is home to lots of people who are not only passionate about food but look forward to great places to wine and dine.
"The platform shall introduce a diversified marketing model which will enable restaurants and cafes to regularly reach out, connect and engage their customers in a manner as has never been done.
"The internet has become part of our everyday lives offering non-stop access to different information easier and faster.
"People constantly go online to search and research for different options before making decisions.
"Food and leisure industry are therefore no exception to this trend, which is why Tomachy want to ensure that restaurants and cafes are visible digitally to be able to promote their services and goods online.
"Tomachy platform offers different opportunities for restaurants to reach wider audiences, promoting their business in more effective and efficient ways," he said.
READ: FG to revive, sustain economy through reforms
The CEO said that when a restaurant became visible online, searchers in the location would locate it faster in the midst of of similar businesses within the neighbourhood.
He said that this would make choice easier for the searcher and increase a restaurant's foot-falls.
Odibo said that being present in the digital space opened communication lines between restaurants and customers.
He said that restaurants could equally reach out and engage with all who had searched them or reviewed their business on Tomachy.
According to him, customers of restaurants and cafes are also at liberty to list their favourite locations, with photos, if they are not already listed on Tomachy.

Load more